Bennie Green
April 16, 1923 – March 23, 1977
| | |
| --- | --- |
| Instrument | trombone |
| Birthplace | Chicago, IL |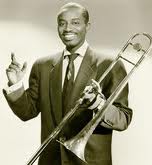 A bebop trombonist with deep roots in blues and popular song, Bennie Green developed a distinctive sound and style that was easily recognizable—no easy feat in a trombone landscape that was so dominated by his contemporary, J.J. Johnson.
Bennie's first recordings were with the Earl Hines Orchestra which he was with from 1942-1948, except for two years when Green was in the military. Before the end of the 1940s he was also on recordings with Wardell Gray, Charlie Ventura, James Moody, Charlie Parker, Coleman Hawkins, Miles Davis, Sonny Stitt, Bud Powell and Max Roach. In 1950 he did the first of several recordings with tenor saxophonist Gene Ammons, and in 1951 he recorded as a member of the Miles Davis Sextet with Sonny Rollins and Roy Haynes.
In addition to his work and recordings as a sideman, from 1951 to 1964 he was on seventeen recordings as a leader or co-leader. In the 1950s he recorded with many of the artist/composers Second Floor Music has the honor of publishing, such as (in chronological order): Eddie "Lockjaw" Davis, Idrees Sulieman, Cecil Payne, Hank Mobley, Walter Davis Jr., Charli Persip, Paul Quinchette, Ruby Braff, Jo Jones, Charlie Rouse, Paul Chambers, Lucky Thompson, Art Farmer, Philly Joe Jones, Eric Dixon, Kenny Drew, Sonny Clark, Melba Liston, Al Grey, Kenny Burrell, Eddie Bert, Bob Brookmeyer and Slide Hampton. In the 1960s: Jimmy Forrest, George Duvivier, Howard McGhee, Roland Alexander, Walter Bolden, Mal Waldron, Skip Hall, Johnny Griffin, Martin Banks, Paul Gonsalves, Harry Carney and Cat Anderson. These last recordings were made with Duke Ellington (1968-1969).
In 1970 he moved to Las Vegas, Nevada, and played in hotel show bands, with a few occasional recording sessions. The Biographical Encyclopedia of Jazz describes him as "One of the most dexterous and velvet-toned modern trombonists."