Slide Hampton
April 21, 1932 – November 18, 2021
| | |
| --- | --- |
| Instrument | trombone |
| Birthplace | Jeanette, PA |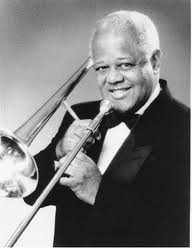 Trombonist Locksley Wellington "Slide" Hampton was born in Jeannette, Pennsylvania. The Hamptons were a very musical family in which mother, father, eight brothers and four sisters all played instruments and formed a family band. The family moved to Indianapolis in 1938. In 1944, at the age of twelve, Slide played in his family's Indianapolis jazz band, The Duke Hampton Band.
Slide is one of the few left-handed trombone players. Although not naturally left-handed, as a child he was given a trombone which was set up to play left-handed, or backwards; as no one ever dissuaded him, he continued to play this way.
Slide made his first recording at age twenty with Eddie "Cleanhead" Vinson in Cincinnati, Ohio (July 7, 1952) for the King label. He continued to play with the family band, the Hamptonians. That band won a contest sponsored by the Pittsburgh Courier, which gave them the opportunity to open for Lionel Hampton in NYC at Carnegie Hall. Soon after, the band returned to NYC for a whole month of engagements (one week at the Apollo Theater followed by two weeks at the Savoy Ballroom and then another week at the Apollo). On April 7, 1953, the band recorded for the King label, again in Cincinnati, Ohio.
In 1955, Slide joined the Buddy Johnson band and made his first recording with them on August 15, for Mercury Records. He continued recording with them through June of 1957. In 1958 he first recorded with Johnny Richards (January 15), then on January 22 did a two trombone date with Curtis Fuller for Blue Note Records. During this time he also recorded with Lionel Hampton. On May 6, 1958, he did his first recording of many with the Maynard Ferguson band.
Slide started his own octet in 1959 and did several recordings. In the '60s he remained active as a player and composer/arranger. In 1968 he went to Europe with Woody Herman and settled in Berlin to arrange for European radio orchestras. He returned to the US in 1977 and continued to be active in a variety of groups.