Sister Salvation

– Slide Hampton

From the spiritual tradition, Slide's medium up swing in 3/4 preaches the truth, as played by horns.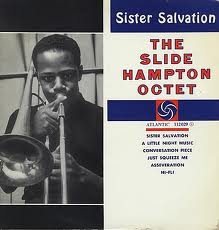 All selected items will be available for download after purchase.
Recording:

Slide Hampton - Sister Salvation

Recorded on:

February 15, 1960

Label:

Atlantic (LP 1339)

Concert Key:

B-flat

Vocal Range:

, to

Style:

3/4 swing (medium up)
Trumpet - Freddie Hubbard, Bob Zottola
Trumpet - Richard Williams
Tenor Sax - George Coleman
Baritone Sax - Jay Cameron
Trombone - Slide Hampton
Euphonium - Bernard McKinney
Tuba - Bill Barber
Bass - Nabil "Knobby" Totah
Drums - Pete LaRoca
As you hear from the audio clip, which starts at the beginning of the track, the melody starts some happy preachin' immediately. The sixteen-measure ABCD form starts each section with stop time, but by the C section, the drums are swinging through the horn breaks. Some of Slide's orchestrated counter lines are indicated in the C treble clef edition.

This is the title and opening track from Slide's second octet album as a leader. In late 1959, he recorded his first octet album "Horn Of Plenty" for the Strand label. On October 17, 1960, after the "Sister Salvation" date featured here, he went back in the studio for Atlantic for a third octet album ("Somethin' Sanctified"). These octet albums were Slide's first albums as a leader.

In the same year, Slide also recorded with vocalist Ruth Brown, with bassist Charles Mingus and also with pianist Randy Weston. Slide had been recording with as well as writing originals and arranging for the Maynard Ferguson band since May 1958. He continued recording with Maynard until 1962, did dates with Maynard again in 1967, then arranged another date for him in 1978.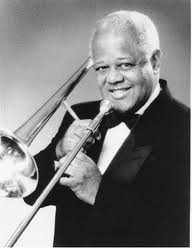 April 21, 1932 – November 18, 2021
Trombonist Locksley Wellington "Slide" Hampton was born in Jeannette, Pennsylvania. The Hamptons were a very musical family in which mother, father, eight brothers and four sisters all played instruments and formed a family band. The family moved to Indianapolis in 1938. In 1944, at the age of twelve, Slide played in his family's Indianapolis jazz band, The Duke Hampton Band. Read more...