Curtis Fuller
December 15, 1934 – May 8, 2021
| | |
| --- | --- |
| Instrument | trombone |
| Birthplace | Detroit, MI |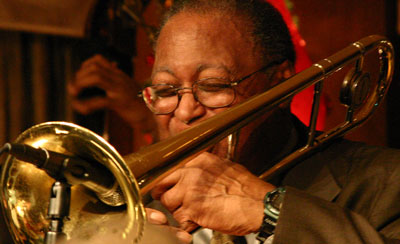 After J.J. Johnson, Curtis Fuller is likely the most influential modern jazz trombonist. Born in Detroit and raised in an orphanage, he was a relatively late starter: he did not take up the trombone until age 16. But it was not long until he was cutting his teeth with saxophonists in the area like Pepper Adams and Yusef Lateef and guitarist Kenny Burrell, eventually building up his skills enough to move to New York in 1957. Curtis' first recording session, however, was in the previous year, with Pepper and also Detroit's Paul Chambers. This was also Curtis' first session with John Coltrane and Philly Joe Jones (check out High Step).
Curtis' 1957 arrival in New York as a talented 22-year-old trombonist is certainly an unimaginable success story. On April 5th he recorded his first New York sessions with Yusef Lateef, and from there, his career took off, with dates every few days alongside stars like Paul Quinichette, Red Garland, Clifford Jordan, Sonny Clark, Lee Morgan, Jackie McLean, and even John Coltrane. In fact, it was only a matter of weeks, on May 11, 1957, that Curtis got his first leader date, "New Trombone," with Prestige Records; one month later, he followed up with his first date as a leader for Blue Note ("The Opener"). In all, he had seven dates as a leader in his first year in New York alone, and 24 dates total, all in his first 9 months in New York—an unbelievable smash success.
Here's a summary of his recording calendar for 1957:
April 5 Yusef Lateef (Savoy)
9 Yusef Lateef (Savoy)
16 Yusef Lateef (Verve)
May 10 Paul Quinichette's New Stars (Prestige)
11 Curtis' first leader date: "New Trombone" (Prestige)
14 Curtis Fuller With Red Garland (New Jazz)
18 Curtis Fuller With Hampton Hawes (Prestige)
June 2 Clifford Jordon (Blue Note)
16 Curtis' first leader date for Blue Note: "The Opener"
July 21 Sonny Clark's "Dial S For Sonny" (Blue Note)
see Sonny Clark's composition Bootin' It recorded on this session
Aug 3 "Bud! The Amazing Bud Powell (Blue Note)
4 Curtis Fuller: "Bone And Bari" (Blue Note)
25 (day) Lee Morgan: "City Lights" (Blue Note)
25 (evening) Jimmy Smith: "House Party" (Blue Note)
30 Jackie McLean (New Jazz)
Sept 1 Sonny Clark: "Sonny's Crib" (Blue Note) (also features John Coltrane)
5 Curtis Fuller: "Jazz...It's Magic" (Regent) with Tommy Flanagan
10 John Jenkins & Donald Byrd (Regent)
15 John Coltrane: "Blue Train" (Blue Note)
Dec 1 "Curtis Fuller Vol 3" (Blue Note)
15 Lou Donaldson (Blue Note) This was also Curtis' 23rd birthday.
17 Machito "Kenya" session
19 Machito "Kenya" session
24 Machito "Kenya" session

Certainly not a bad first year in New York for a 22 year old!
Curtis went on in 1960 to become the first trombonist in the Art Farmer-Benny Golson Jazztet and shortly thereafter joined the Jazz Messengers, with whom he played until 1965. Simultaneously, he recorded albums as a leader for Warwick, Epic, and Impulse Records. In the later 1960s, he toured Europe with Dizzy Gillespie. The 1970s brought Curtis into a more experimental era during which he tried hard bop arrangements in a band that featured electronic instruments, but he returned to his roots in the later 70s and 80s playing with Art Blakey, Cedar Walton, and Benny Golson. In 2007, he was honored as a NEA Jazz Master.