Court

– Curtis Fuller

This minor swing is as regal as the name suggests with a richly lyrical melody. Curtis Fuller's trombone solo transcription also available.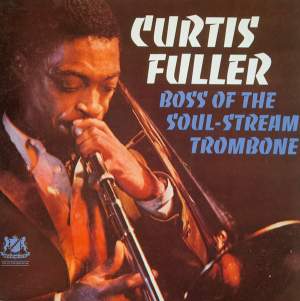 All selected items will be available for download after purchase.
Recording:

Curtis Fuller - Boss Of The Soul-Stream Trombone

Recorded on:

December, 1960

Label:

Warwick (W 2038)

Concert Key:

F minor

Vocal Range:

, to

Style:

Swing (medium up)
Trombone - Curtis Fuller
Trumpet - Freddie Hubbard
Tenor Sax - Yusef Lateef
Piano - Walter Bishop, Jr.
Bass - Buddy Catlett
Drums - Stu Martin
The recording starts with an 8-measure drum solo, but our audio excerpt starts at the melody. This is an interesting 28-measure melody and solo form. The melody starts out quite normally: two 8-measure phases, A and B with an 8-measure rhythm section pedal figure under the A section. Curtis takes some liberties with his own melody, so the lead sheets show the melody as Curtis would write it, not play it. Then the A section returns, but swinging, without the rhythm section pedal. Then it's back to the B section, but for only four measures before the first soloist starts and the 28-measure form begins again (8-measure rhythm section pedal figure, etc.) and continues throughout the recording. After the last soloist, the melody is restated before the Coda, where Curtis solos over a 4-measure rhythm section vamp and fade. The vamp is really the first four measures of the A section, except the piano treats it differently (shown in the C treble clef lead sheet), playing whole chords instead of just bass pedals.

About the session: "
Boss Of The Soul-Stream Trombone
" was a Curtis Fuller (leader) date, although it's been released many times under other leaders/titles. It is an interesting sextet front line that features Yusef Lateef, whom Curtis had played with since his early days in Detroit, and Freddie Hubbard, whom Curtis had just recorded with for the first time several months before when both recorded with Quincy Jones and his Orchestra. It wouldn't be long until both Curtis and Freddie would join Art Blakey helping to create a legendary Jazz Messengers sextet.
Hubbard and Lateef solo on this track, but Curtis plays the melody by himself.
Don Sickler says, "Curtis came up with this treatment of the melody for the recording date in 1960. Actually, he originally wrote it as a ballad. I didn't know this myself, until a vocalist (Fleurine) told me she wanted to write some lyrics to it after listening to Curtis's recording. She said she heard the melody as a ballad. This really took me by surprise, so I told her I would have to ask Curtis before she could start working on a ballad lyric. When I talked to Curtis, we were both blown away. Curtis, because he first wrote it as a ballad, and me, because I love his medium up tempo recording so much and never thought of it as a ballad.
"Fleurine wrote her lyric, Curtis loved it, she recorded it, and the ballad
One Dream Gone
was born."
The lyric version of
The Court,
One Dream Gone
can be found in our
Sing JAZZ!
songbook, a collection of stunning, lesser-known vocal selections from the Second Floor Music repertoire (
Sing JAZZ! contents)
. Hear it on
iTunes
.
Transcribed Trombone Solo:
As we described, the lead sheet melody is written the way that Curtis would write the melody. On the recording, he adds some great different twists and turns on both the opening melody chorus and the melody chorus after the solos. We have transcribed both melody choruses as well, and they are part of this Solo Transcription edition. Our audio excerpt for the transcribed solo starts with Curtis's first chorus
trombone
.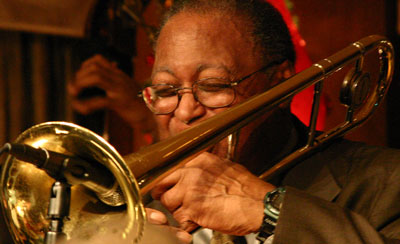 born on December 15, 1934
After J.J. Johnson, Curtis Fuller is likely the most influential modern jazz trombonist. Born in Detroit and raised in an orphanage, he was a relatively late starter: he did not take up the trombone until age 16. But it was not long until he was cutting his teeth with saxophonists in the area like Pepper Adams and Yusef Lateef and guitarist Kenny Burrell, eventually building up his skills enough to move to New York in 1957. Curtis' first recording session, however, was in the previous year, with Pepper and also Detroit's Paul Chambers. This was also Curtis' first session with John Coltrane and Philly Joe Jones (check out High Step). Read more...