High Step

– Barry Harris

This appealing composition has a true bebop feel without being too difficult. It makes a great introduction to the genre for younger players, but as you can hear from John Coltrane on this track, it's a good choice for masters as well! Based on the changes to All God's Chillun Got Rhythm.
All selected items will be available for download after purchase.
Recording:

Paul Chambers - Chambers' Music

Recorded on:

April 25, 1956

Label:

Blue Note (CDP7-84437)

Concert Key:

F

Vocal Range:

, to

Style:

Swing (medium)
Tenor Sax - John Coltrane
Baritone Sax - Pepper Adams
Trombone - Curtis Fuller
Bass - Paul Chambers
Drums - Philly Joe Jones
This composition by pianist Barry Harris seems to have never been recorded by him. It's likely that it was brought to the date by Pepper Adams (who also recorded it again a year later), but this date also includes fellow Detroiters
Curtis Fuller
and
Paul Chambers
, either of whom could have gotten it from Barry. It's a happy melody based on the popular chord progression of
All God's Chillun Got Rhythm.
Don Sickler: "Drummer
Philly Joe Jones
was the first one to comment to me personally about this session. He said Red Garland was supposed to be on the date, but was a 'no show.' Tenor saxophonist
Roland Alexander
was visiting the session and sat in on piano for
Curtis Fuller
's
Trane's Strain
.
High Step
was recorded without piano. This was Curtis Fuller's first recording session, but Curtis doesn't think it took place in Boston. Barry Harris had recorded for the same Transition label in 1955, but that recording was in Detroit. Barry's first recording on the East Coast was for Blue Note (Hackensack, NJ) on July 9, 1956."
Information about the original recording date indicates it might have been recorded as early as April 20, 1955.
All selected items will be available for download after purchase.
Recording:

Pepper Adams - Critics' Choice

Recorded on:

August 13-14, 1957

Label:

World Pacific (PJM 407)

Concert Key:

F

Vocal Range:

, to

Style:

Swing (medium)
Trumpet - Lee Katzman
Baritone Sax - Pepper Adams
Piano - Jimmy Rowles
Bass - Doug Watkins
Drums - Mel Lewis
Pepper Adams must have liked this composition, since he recorded it again on his own session.The tempo here is much slower, making the feeling more laid-back. The rhythm of the first two measures is slightly different: the first note, which on the Chambers version was an 8th note on the "and" of beat 1, is here tied over, squeezing what was formerly an 8th-note triplet on beat 2 into a 16th-note triplet on the "and" of 2. The two horns play in octaves here, and the counterpoint that filled up measures 3, 4, and 7 in the Chambers version is replaced with piano fills. Apart from the piano, the feeling on this recording is quite similar to the Gerry Mulligan/Chet Baker quartet.



Bassist
Doug Watkins
and saxophonist Adams played together several times during 1957. In April, with The Prestige All Stars including John Coltrane, Cecil Payne and
Mal Waldron
at Rudy Van Gelder's Hackensack studio; to LA for the "Critics' Choice" session; to Chicago in November, with Sonny Red, Wynton Kelly and Elvin Jones (for Savoy); then one last session in December with
Idrees Sulieman
, Frank Rehak, Bill Evans and Louis Hayes.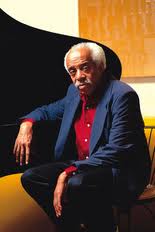 December 15, 1929 – December 8, 2021
Pianist Barry Harris, born in Detroit, learned piano with his mother, a church pianist. The lessons started when Barry was only four years old. Detroit was an important jazz city in Barry's youth. Many great jazz artists were born and raised there, although most came to New York City to pursue their careers. Pianist Hank Jones was a little older than Barry, but Tommy Flanagan and Barry were friends as teenagers and they certainly learned from each other. Read more...