Barry Harris
December 15, 1929 – December 8, 2021
| | |
| --- | --- |
| Instrument | piano |
| Birthplace | Detroit, MI |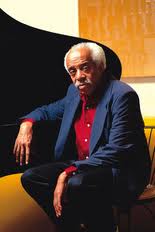 Pianist Barry Harris, born in Detroit, learned piano with his mother, a church pianist. The lessons started when Barry was only four years old. Detroit was an important jazz city in Barry's youth. Many great jazz artists were born and raised there, although most came to New York City to pursue their careers. Pianist Hank Jones was a little older than Barry, but Tommy Flanagan and Barry were friends as teenagers and they certainly learned from each other.
Barry stayed a little longer in Detroit than most. He played in the house band at the Blue Bird club, backing artists such as Miles Davis, Sonny Stitt, Wardell Gray, Thad Jones and Max Roach. He also played at Rouge Lounge with Lee Konitz, Lester Young, and many others.
Barry had come to New York, more precisely to Hackensack, New Jersey, in 1956 to record several dates in Rudy Van Gelder's studio (Rudy's parents' living room). The first was with Thad Jones for Blue Note, followed immediately by sessions with Hank Mobley for both Prestige and Savoy ("B for BB") and a two trumpet date with Donald Byrd and Art Farmer for Prestige. All five of these session were in the span of one month, starting on July 9, and ending on August 3.
Barry's next recording session were closer to home, in Chicago, in the summer of 1958. In the fall of 1958 he was back in NYC to record one date with Benny Golson for Riverside Records. Barry officially left Detroit in 1960 with Cannonball Adderley to settle in NYC. On jazzleadsheets.com you can find him on a Harold Land 1960 recording (Terrain, Compulsion, and Ursula) as well as many other notable sessions. Learn more about Barry at his website, BarryHarris.com.