Sonny Stitt
February 2, 1924 – July 22, 1982
| | |
| --- | --- |
| Instrument | tenor sax |
| Birthplace | Boston, MA |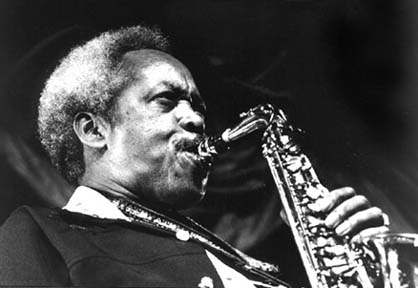 Alto saxophonist Sonny Stitt was 3 1/2 years younger than Charlie Parker. When they met in 1943, each was surprised to find the other had developed a virtually identical style. Sonny was always frustrated when he was labeled as just another disciple of Charlie Parker, knowing he had already developed his style before hearing recordings of Charlie Parker with Jay McShann.
Sonny joined the Tiny Bradshaw band in 1943. On May 2, 1945, he recorded with the Billy Eckstine big band as part of a truly dream sax section: Budd Johnson and Stitt on altos, Dexter Gordon and Gene Ammons on tenors, and Leo Parker on baritone. This incredible band also also featured trumpeter Fats Navarro and drummer Art Blakey. A year later (May 15, 1946), Sonny was recording with the Dizzy Gillespie sextet and two months later (July 9, 1946), with Dizzy's big band. On August 23, 1946, he was on a quintet session with Kenny Dorham (also featuring Bud Powell: "The Bebop Boys/Kenny Dorham Quintet") which led to his own first date as a leader (September 4, 1946) with the same quintet, except that Kenny Clarke was the drummer ("The Bebop Boys/Sonny Stitt Quintet"). The next day (September 5), Kenny Clarke had his own date, expanding this same quintet into a nonet featuring two trumpets, Kenny Dorham and Fats Navarro. On September 6 this nucleus changed slightly (different tenor saxophonist and eliminating the guitar) to form the octet that Savoy lists as the Fats Navarro/Gil Fuller Modernists. The next month Stitt was back in the studio with Billy Eckstine and his Orchestra with Miles Davis in the trumpet section, Cecil Payne on baritone sax, and other personnel changes.
In 1947 Sonny won the Esquire New Star alto sax award. He did his first Prestige Records session as part of "Jay Jay Johnson's Boppers" (October 17, 1949). This session is also important because it is Sonny's first recording playing tenor sax. On December 11, 1949, Sonny became a leader for Prestige, following it up with more sessions on January 26 and February 17, 1950. All of these were on tenor sax.
During this period he also started playing baritone sax, and he soon became a true triple threat saxophonist. On March 5, 1950, Prestige recorded a Gene Ammons-Sonny Stitt session which featured Sonny on tenor, and for the first time, baritone sax. On this session they recorded their co-written two-tenor classic Blues Up And Down for the first time. They did it again together in 1961 for Verve, as well as in 1973. Other great two-tenor bands have also recorded this title, such as Eddie "Lockjaw" Davis-Johnny Griffin (1961 and 1984 recordings), Dexter Gordon-Johnny Griffin (1968 and 1978 recordings), Al Cohn-Billy Mitchell, and it's even been recorded by three tenors: Al Cohn-Scott Hamilton-Buddy Tate.
In 1953, Sonny started doing leader sessions for Roost Records. In September 14, 1956, he recorded his first leader session for Verve ("New York Scene/Sonny Stitt"). He then bounced back and forth between sessions for Verve and Roost, including important Verve dates under the leadership of Dizzy Gillespie. A week after a Dizzy Gillespie "Duets" session, where either he or Sonny Rollins teamed up with Dizzy, all three got together for Dizzy's "Sonny Side Up" session, where they recorded another colossal two-tenor battle on Stitt's classic The Eternal Triangle (December 19, 1957). Sonny continued recording as a leader, as well as touring and recording with Jazz At The Philharmonic, replacing John Coltrane in the Miles Davis quintet (1960), forming a trio with organist Don Patterson (1961), and going to Japan in 1964 in a sextet with Clark Terry and J.J. Johnson. In 1971-72, Sonny played alongside Dizzy Gillespie and Thelonious Monk in the "Giants of Jazz." His last performance took place in Japan just a few days before his death in 1982.