Gene Ammons
April 14, 1925 – July 23, 1974
| | |
| --- | --- |
| Instrument | tenor sax |
| Birthplace | Chicago, IL |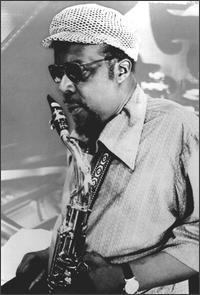 Gene Ammons is the son of the great boogie-woogie pianist Albert Ammons. Born in Chicago, Gene studied music at Du Sable High School under Captain Walter Dyett. He left Chicago at 18 to tour with King Kolax. On September 5, 1944, at the age of 19, he made his first recording with Billy Eckstine and his Orchestra. The Eckstein band was truly legendary, with Dexter Gordon on tenor sax, Leo Parker on baritone, Dizzy Gillespie in the trumpet section, Art Blakey on drums, Tommy Potter on bass, Sarah Vaughan singing with the band, and Tadd Dameron as one of the arrangers. It was a hothouse of talent and creativity and an immense opportunity for the young Gene, whom Billy nicknamed "Jug" when the straw hats ordered for the band were too small for his head.
Gene continued playing and recording with the Eckstine band through their October 6, 1946, recording. During Gene's tenure, great horn players like Fats Navarro, Kenny Dorham, Miles Davis, Budd Johnson, Sonny Stitt, Frank Wess, and Cecil Payne all recorded with the band, adding to the immense pool of talent Gene was exposed to during his young professional life. In 1947, Gene did his first five sessions as a leader, as well as recording with his father for Mercury Records (Albert Ammons And His Rhythm Kings); he also participated in Leo Parker's All Stars for Savoy Records. In 1949, he recorded with Woody Herman And His Orchestra, replacing Stan Getz. On February 6, 1950, he recorded a Count Basie octet session. On March 5, 1950, he and Sonny Stitt recorded their classic two-tenor composition Blues Up And Down for the first time. Gene continued to record a session every year, primarily under his own name, through September, 1962. On November 10, 1969, he made "The Boss Is Back!" and continued to record until 1974.
As Scott Yanow says, "Gene Ammons, who had a huge and immediately recognizable tone on tenor, was a very flexible player who could play bebop with the best (always battling his friend Sonny Stitt to a tie) yet was an influence on the R&B world." He loved to team up with and do battle with other tenor players, setting a precedent with Sonny Stitt and later with Don Byas, Dexter Gordon and Eddie "Lockjaw" Davis, among others.