Hittin' The Jug

– Gene Ammons

A sultry, sinuous slow blues. A transcription of Gene's solo is available, with detailed articulations and dynamics.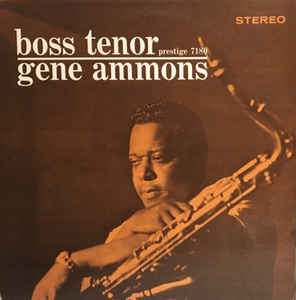 All selected items will be available for download after purchase.
Recording:

Gene Ammons - Boss Tenor

Recorded on:

June 16, 1960

Label:

Prestige (PRLP 7180)

Concert Key:

B-flat

Vocal Range:

, to

Style:

Swing (slow)
Tenor Sax - Gene Ammons
Piano - Tommy Flanagan
Bass - Doug Watkins
Drums - Art Taylor
Congas - Ray Barretto
The slow tempo makes this blues head a lot easier than it looks! It's a riff head based on two off-beat hits with the rhythm section as a sort of "call" and a descending 16th-note line as a "response." This two-measure figure repeats to fill a chorus, though the line in the last measure is not always played. The out head adds a break on the last two measures, with a different descending line to a final chord. On this recording, there are two choruses of piano solo before the head, but our audio excerpt starts on the melody.

Click on the Solos tab for a description of Gene's solo.
"Boss Tenor"
was recorded at the legendary
Van Gelder Studio
in Englewood Cliffs.
The "
Boss Tenor
" album is underrated in favor of its sequel, ""
Boss Tenors
," which is among the best-known of the Gene Ammons-
Sonny Stitt
quintet albums. Recorded in August 1961, "Boss Tenors" includes a slow blues,
Counter Clockwise,
credited to Stitt and very much a response to
Hittin' The Jug.
It differs from
Hittin' The Jug
in having three hits in the beginning of the riff instead of two, with Ammons and Stitt alternating response lines; Gene's are a variation of the
Hittin'
lines but Sonny's are improvised.
Hittin' The Jug
has also been recorded by tenormen
Eric Alexander
,
Grant Stewart
and pianist Peter Zak, among others.
Gene's solo
is five choruses long. This is a more complex solo than some of his medium-tempo blues solos, as he fills the space at certain resolutions with 32nd-note bebop lines. The bluesier lines in this solo are also sometimes more complex, taking advantage of the slower tempo. He starts each chorus simply, and builds more rhythmic activity towards the middle and end of the choruses.
Our transcription has detailed dynamics and articulations for a close-up look at Gene Ammons' unique style. He uses all of his trademark phrasing and tone coloring in this solo, including side D fingering in the first and third choruses and his signature overtones and tongue muting going into the last chorus.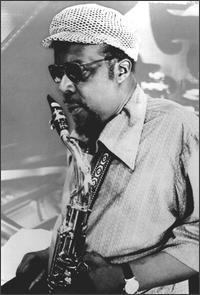 April 14, 1925 – July 23, 1974
Gene Ammons is the son of the great boogie-woogie pianist Albert Ammons. Born in Chicago, Gene studied music at Du Sable High School under Captain Walter Dyett. He left Chicago at 18 to tour with King Kolax. On September 5, 1944, at the age of 19, he made his first recording with Billy Eckstine and his Orchestra. The Eckstein band was truly legendary, with Dexter Gordon on tenor sax, Leo Parker on baritone, Dizzy Gillespie in the trumpet section, Art Blakey on drums, Tommy Potter on bass, Sarah Vaughan singing with the band, and Tadd Dameron as one of the arrangers. It was a hothouse of talent and creativity and an immense opportunity for the young Gene, whom Billy nicknamed "Jug" when the straw hats ordered for the band were too small for his head. Read more...