Albert Ammons
September 23, 1907 – December 2, 1949
| | |
| --- | --- |
| Instrument | piano |
| Birthplace | Chicago, IL |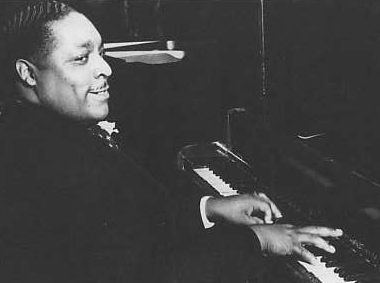 Albert Ammons, one of the most influential figures in early jazz piano, is best remembered for his contributions to the burgeoning style of boogie-woogie piano. Albert was born in Chicago on September 23, 1907. He began playing professionally at age 17 when he and childhood friend Meade "Lux" Lewis, both taxi drivers at the time, started to play together in various Chicago nightclubs and rent parties.
In 1934, Albert started his own band at the Club DeLisa on the South Side of Chicago, where he remained for two years. He began recording in 1936 for Decca, releasing the Boogie Woogie Stomp and Swanee River Boogie with his band, the Albert Ammons Rhythm Kings. These tracks were wildly popular and led to the growing rise of boogie-woogie as a popular trend.
Shortly after, Albert relocated to New York City and teamed up with pianist Pete Johnson; the two regularly performed at Cafe Society and were occasionally joined by Meade Lux. In 1938, the three pianists played in the historic Carnegie Hall concert "From Spirituals To Swing," an event that helped launch boogie-woogie into the national spotlight. There, he and Meade Lux were noticed by producer Alfred Lion, who recorded the two on January 6, 1939, playing a series of solos and duets; this became the first session for the legendary Blue Note label.
He was also noticed at the Carnegie Hall concert by other big names like Benny Goodman and Harry James and later performed with them. Albert continued performing and recording into the 1940s, but was inactive in the early part of the decade due to a cooking accident that severed part of his finger. He returned to the scene in 1944 with a recording for Commodore as a soloist. Later that year, he appeared as himself in the movie "Boogie-Woogie Dream." Albert relocated to Chicago in 1945 and secured a regular gig at the Bee Hive club. He also recorded several dates as a sideman for blues singer Sippie Wallace. On August 6, 1947, Albert's son, up-and-coming tenor saxophonist Gene Ammons, joined him as a member of "Albert Ammons And His Rhythm Kings" for a Mercury recording session. This, very likely, was the first father-and-son recording team in jazz. Albert played at the inauguration of President Harry Truman in 1949, but sadly passed away in December of that year.