Eddie "Lockjaw" Davis
March 2, 1922 – November 6, 1986
| | |
| --- | --- |
| Instrument | tenor sax |
| Birthplace | New York, NY |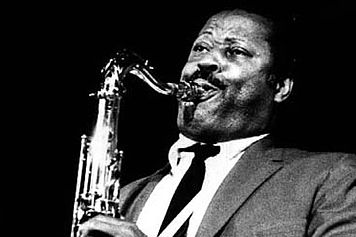 Tenor saxophonist Eddie "Lockjaw" Davis was self-taught. He developed his own sound and had an often unorthodox way of playing the saxophone. Johnny Griffin, with whom Lockjaw created an important 2-tenor sax alliance, and Lockjaw made many incredible recordings together, starting with their "Battle Stations" session for Prestige on September 2, 1960. Don Sickler recalls, "Johnny told me that, at first, he used to look at Jaws' fingers to try to figure out how he came up with his unique lines. Johnny quickly abandoned that effort (trying to figure out Lockjaw's unorthodox approach), telling me something like: 'He was incredible, I have no idea how he could play the saxophone that way. I very quickly stopped trying to figure out what he was doing. Watching his fingers would mess me up!'"
Lockjaw's style was a very personal mixture of just about everything he heard, from R&B to bebop and much beyond. His recording career started with a couple of Cootie Williams sextet sessions (January 4 and 6, 1944), which are also the first recordings of legendary pianist Bud Powell. Aside from recording four 78 rpm sextet sides on January 6, they also recorded four big band sides (Cootie Williams And His Orchestra). On May 26, 1944, he recorded with Lucky Millinder And His Orchestra, alongside tenor saxophonist Lucky Thompson. After a few sessions in 1945, he recorded with Andy Kirk's big band on January, 3, 1946, alongside tenor saxophonist Jimmy Forrest, and with Fats Navarro in the trumpet section.
Lockjaw started his recording career as a leader in 1946 (check out Afternoon In A Doghouse). Jaws continued recording his own sessions and sessions with other leaders through the rest of the 1940s and into the '50s. He recorded with Count Basie And His Orchestra for the first time on July 22, 1952, alongside tenor saxophonists Paul Quinichette and Ernie Wilkins—who also played alto sax in the band. Lockjaw loved the Basie band and returned to the band many times during his career. From 1955 to 1960 he led an organ trio which included Shirley Scott. He often led the quintet with Johnny Griffin from 1960 to 1962 and other times, reuniting this "tough tenor" quintet in later years.
Don continues, "I can't resist including two quotes from Eddie's conversations with drummer Art Taylor, which are found in A.T.'s book 'Notes And Tones.' Why did Eddie become a tenor saxophonist?: 'In my case I wanted the instrument for what it represented. By watching musicians I saw that they drank, they smoked, they got all the broads and they didn't get up early in the morning. That attracted me. My next move was to see who got the most attention, so it was between the tenor saxophonist and the drummer. The drums looked like too much work, so I said I'll get one of those tenor saxophones. That's the truth.'"
In 1940, former bandleader Teddy Hill became the manager of Minton's Playhouse on 118th Street in NYC. Everybody wanted to play at Minton's. It was one of the places to be heard, in order to build your career. As a result, many unqualified players would often try to sit in. During Lockjaw's tenure as leader at Minton's, Teddy Hill saddled him with the responsibility of deciding who played and who didn't play: "In some instances I was labeled as a tyrant, but on the whole the guys appreciated it. The word spread. If you can't play, don't go on Lockjaw's thing, because he'll ask you off. In doing that we got the best musicians." Many years later, when I first saw Lockjaw, he looked very scary to me. On one occasion, I remember him calling the ballad But Beautiful, looking at the pianist and bassist who gave the "yes" nod, then playing the song, finding out that neither really knew the tune. When it was finally over, Jaws gave them both a terrifying look and I heard him say, "Don't ever do that again!!!" Don: "Once I got to spend some one-on-one time with Lockjaw, I found him very warm, totally un-scary, and incredible to talk with."