Afternoon In A Doghouse

– Eddie "Lockjaw" Davis

A blues head with plenty of bop influence that sounds just as at home today as it did in 1946.

All selected items will be available for download after purchase.
Recording:

Eddie 'Lockjaw' Davis - Eddie Davis 78rpm

Recorded on:

May, 1946

Label:

Haven (801)

Concert Key:

B-flat

Vocal Range:

, to

Style:

Swing (medium)
Tenor Sax - Eddie 'Lockjaw' Davis
Guitar - Bill DeArango
Piano - Sadik Hakim (Argonne Thornton)
Bass - Gene Ramey
Drums - Denzil Best
In 1946, blues playing and blues heads were getting more bop oriented, and Lockjaw (then just known as Eddie Davis) was absorbing and integrating all the music genres around him. In our brief audio excerpt you'll hear early Lockjaw, so those of you who know his playing may not immediately recognize him, minus a lot of his "tough tenor" sound and style. But. before he's through soloing on this track, you'll experience the true unique sound of Eddie 'Lockjaw' Davis, even as a young man in his mid-twenties. Our audio excerpt starts right on the melody, which is preceded on the recording by four measures of "time" on the hi-hat.

1946, the year of this
recording
, was the first year that Eddie Davis (as he was known then) started recording as a leader.
We're always interested in knowing about labels that recorded jazz artists. There are many labels that recorded jazz in the 1940s (78 rpm disks) that we can't find much info about. Not everything can be found by google-ing on the internet! So far, there's not much substantial information about the Haven 78 rpm label. Maybe some of you know something about this label? We've found several other artist listings on Haven, but nothing before 800, so was Eddie the first to record for the label? Did Haven only do 6 jazz 78s? Here's all we've found:
Haven 78s:
Haven 800 Eddie Davis
801 Eddie Davis
802 Bill DeArango
803 Bill DeArango
804 Ben Webster
805 Ben Webster
Anyone who has more information, please email
Don Sickler
. Thanks.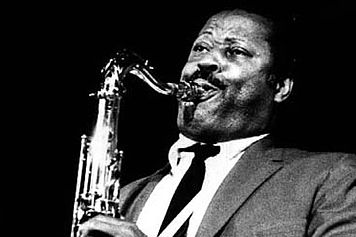 March 2, 1922 – November 6, 1986
Tenor saxophonist Eddie "Lockjaw" Davis was self-taught. He developed his own sound and had an often unorthodox way of playing the saxophone. Johnny Griffin, with whom Lockjaw created an important 2-tenor sax alliance, and Lockjaw made many incredible recordings together, starting with their "Battle Stations" session for Prestige on September 2, 1960. Don Sickler recalls, "Johnny told me that, at first, he used to look at Jaws' fingers to try to figure out how he came up with his unique lines. Johnny quickly abandoned that effort (trying to figure out Lockjaw's unorthodox approach), telling me something like: 'He was incredible, I have no idea how he could play the saxophone that way. I very quickly stopped trying to figure out what he was doing. Watching his fingers would mess me up!'" Read more...