Fats Navarro
September 24, 1923 – July 7, 1950
| | |
| --- | --- |
| Instrument | trumpet |
| Birthplace | Key West, FL |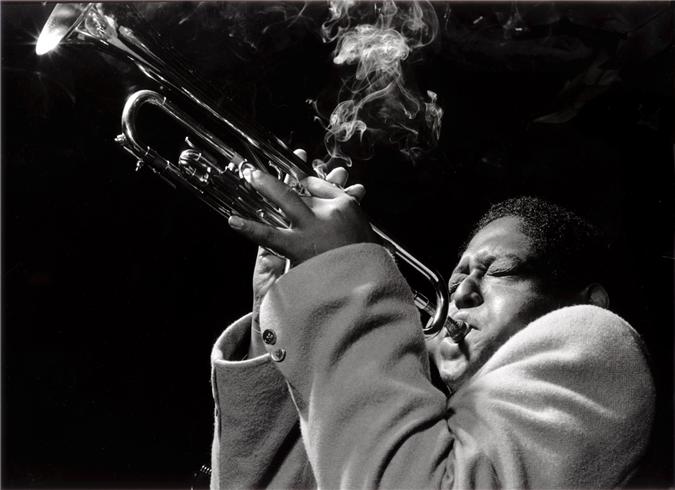 Widely acknowledged as one of the greatest trumpeters of all time, Theodore "Fats" Navarro had a brief life but his influence cannot be overstated. His brawny, fat sound was the main inspiration for Clifford Brown, and through Clifford, Fats' unique style continues to inspire new trumpeters every day.
Fats was born in Key West; he took up piano at age six, but did not take music seriously until he took up trumpet at age thirteen. He also studied tenor saxophone and worked as a saxophonist with the Walter Johnson band in his high school years. After graduating, he joined Sol Albright's band and traveled with them to Cincinatti (where he took more trumpet lessons), then went on the road with Snookum Russell's orchestra, a rich training ground for such artists as J.J. Johnson and Ray Brown in their youth. Fats worked his way up to featured trumpet soloist over the course of two years (1941-1942). He then joined Andy Kirk's Kansas-city based "Clouds of Joy," where he further refined his style—a mix of Roy Eldridge and Charlie Shavers. It was there that Fats met longtime collaborator and trumpeter Howard McGhee. From 1945-1946, Fats replaced Dizzy Gillespie in Billy Eckstine's orchestra.
From 1947-1950, Fats was second only to Dizzy in bop trumpet. As the big band gave way to the small combo, Fats' star continued to rise and he became a highly in-demand sideman. He appeared as a featured soloist in several all-star or "dream band" concerts. He recorded with Kenny Clarke's Be-Bop Boys, Coleman Hawkins, Eddie "Lockjaw" Davis, and Illinois Jacquet. Fats joined Tadd Dameron's band in late 1947 and continued their notable collaboration through 1948. His work with Dameron made him a favorite with critics and the jazz public and he won a Metronome jazz poll in 1948 and appeared on a subsequent Metronome All Stars recording date. Sadly, Fats contracted tuberculosis and his health took a steep decline through 1949-1950. He passed away on July 6, 1950, at the age of 26.