Ice Freezes Red

– Tadd Dameron & Fats Navarro

A bebop classic! This line over the changes of (Back Home Again In) Indiana comes from one of the definitive recordings of Fats Navarro. A transcription of Fats' solo is available.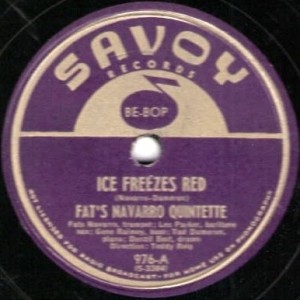 All selected items will be available for download after purchase.
Recording:

Fats Navarro - Fats Navarro Quintette

Recorded on:

January 29, 1947

Label:

Savoy (976-A)

Concert Key:

A-flat

Vocal Range:

, to

Style:

Swing (uptempo)
Trumpet - Fats Navarro
Bari Sax - Leo Parker
Piano - Tadd Dameron
Bass - Gene Ramey
Drums - Denzil Best
Ice Freezes Red
is one of Fats Navarro's best-known songs. It's based on the changes of the standard
(Back Home Again In) Indiana
, but it's a much simpler
Indiana
head than Charlie Parker's
Donna Lee
. Despite its relative simplicity it's still very much in the bebop style. The A section repeats a two-measure riff through the changes, followed by another riff on B; the second half of the B section is a solo break. The A riff reappears at C for four measures, followed by another solo fill (piano on the recording). The D section melody, more typically bebop-styled, is only played in the out head on the recording; Fats Navarro solos at D of the in head. This melody at D certainly works on the in head as well. Our lead sheets also show
Tadd Dameron
's four-measure piano intro.
A transcription of Fats Navarro's solo is available; click on Solos for more details.
Click on the video above to see an all-star performance of
Ice Freezes Red
from the 1958 Cannes Jazz Festival, featuring five tenor saxophonists: Stan Getz, Guy Lafitte, Barney Wilen, Don Byas, and Coleman Hawkins. On the original TV broadcast, this song was mistakenly titled
Now's The Time;
the audio track has appeared on several compilation albums under the title
Indiana
. The last chorus of Bud Powell's 1949 recording of
Indiana
features a riff similar to
Ice Freezes Red.
Fats Navarro's session of January 29, 1947, was the first of only two sessions he recorded as the sole leader. Both were for the Savoy label and feature
Tadd Dameron
on piano. This session was also the only small group session with Fats alongside baritone saxophonist
Leo Parker
; they also played together in Billy Eckstine's and Illinois Jacquet's big bands. Both Fats Navarro quintet sessions, as well as an octet session co-led by Navarro and arranger Gil Fuller (check out
Sonny Stitt
's
Boppin' A Riff
), are among the sessions issued on Mosaic's box set "Classic Savoy Bebop Sessions 1945-49."
Transcribed Trumpet Solo
clip
Our transcription of Fats Navarro contains both the melody and his solo. On the in head, he plays a solo break in the second half of B and also solos on D. After two choruses of baritone sax solo, Fats comes back to solo for a chorus and a half, taking the head out from C. He uses a cup mute on the in chorus but plays open horn on his solo and the out head.
Our transcription shows detailed articulations for an in-depth look at Fats' technique. His solo is a great example of his style and the harmonic and rhythmic vocabulary of bebop in general. Fats' lines contain a lot of passing tones and enclosures. There are a couple of rhythmic figures that he uses to begin several phrases. One starts with a quarter note on beat 3 followed by two eighth notes, which he uses in both solo fills on the head as well as the fifth measure of B in his first solo chorus. The other related figure starts on the downbeat with two quarter notes, two eighth notes, an eighth rest and one more eighth note, ascending a scale; he uses this at the beginning of both C and D in his first solo chorus and a variation at the beginning of the second chorus. Some of Fats' lines in the head chorus are very similar to those in his first solo chorus (second half of B and second half of D); check out how they begin the same but end up in a different place.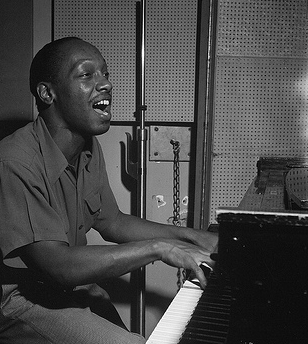 February 21, 1917 – March 8, 1965
A giant of the bebop era, Dameron had a wonderful melodic and harmonic imagination which he brought to compositions and arrangements for both small and big bands. Writing first for Harlan Leonard, Jimmy Lunceford, Count Basie and Billy Eckstine, in the late '40s Dameron started composing and arranging for Dizzy Gillespie's big band. He also recorded his own superb sextet for Blue Note Records in 1947 which featured trumpet great Fats Navarro. Read more...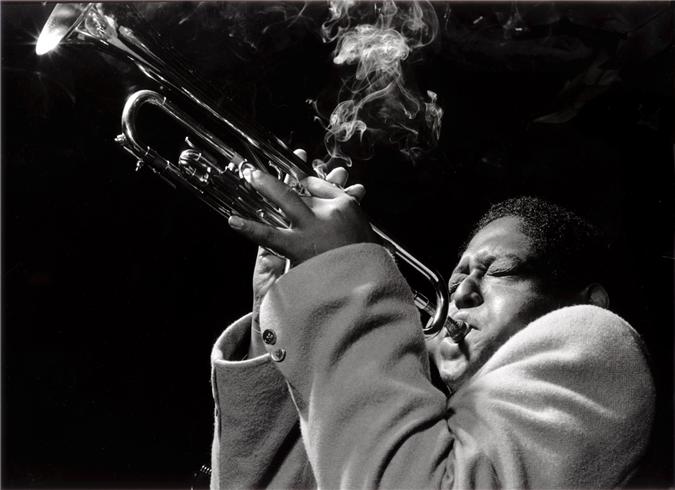 September 24, 1923 – July 7, 1950
Widely acknowledged as one of the greatest trumpeters of all time, Theodore "Fats" Navarro had a brief life but his influence cannot be overstated. His brawny, fat sound was the main inspiration for Clifford Brown, and through Clifford, Fats' unique style continues to inspire new trumpeters every day. Read more...