Leo Parker
April 18, 1925 – February 11, 1962
| | |
| --- | --- |
| Instrument | baritone sax |
| Birthplace | Washington, DC |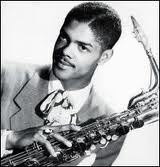 Saxophonist Leo Parker was born in Washington, D.C. In case you're wondering, Leo was not related to Charlie Parker. Leo played alto sax on his first recording sessions, first with the Trummy Young sextet, and then on two sessions with Coleman Hawkins, all in February of 1944, when he was still 18 years old.
On December 5, 1945, he recorded for the first time on baritone sax with the legendary Billy Eckstine Orchestra which also featured tenor saxophonists Gene Ammons and Dexter Gordon, as well as Dizzy Gillespie, Art Blakey, etc. Parker can be heard on recordings with Eckstine through March 1946. On May 7, 1946, he recorded with the Tadd Dameron Orchestra, backing Sarah Vaughan. On January 29, 1947, he recorded with Fats Navarro and his Thin Men for Savoy Records.
On October 4, 1947, Parker had his own leader date: "Leo Parker's All Stars" (Savoy) with a front line of Howard McGhee (trumpet) and Gene Ammons (tenor sax). On December 11, 1947, he recorded again for Savoy as part of the Dexter Gordon Quintette with Tadd Dameron, Curley Russell and Art Blakey. The Leo Parker All Stars recorded again on December 19, 1947, this time as a septet with Joe Newman (trumpet), J.J. Johnson (trombone), along with Dexter Gordon, with the stellar rhythm section of Hank Jones, Curley Russell and Shadow Wilson. Five days later, he recorded again for Savoy in J.J. Johnson's Bop Quintet. During this period he was also playing and recording with Illinois Jacquet and His Orchestra (1947-1950).
Off the scene for much of the 1950s, in 1961 he came back as a leader and recorded two albums for Blue Note. His last recording was on February 5, 1962, again with Illinois Jacquet. He died six days later of a heart attack.