Eli "Lucky" Thompson
June 16, 1923 – July 30, 2005
| | |
| --- | --- |
| Instrument | tenor sax |
| Birthplace | Columbia, SC |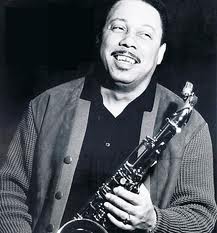 Saxophonist Lucky Thompson is one of the great treasures of jazz. He was born in Columbia, South Carolina, but was raised in Detroit, Michigan. He played in local groups with Hank Jones, Sonny Stitt and others. In August, 1943, when he was 19, he left Detroit with Lionel Hampton's Orchestra, eventually arriving in New York City. Still a teenager, his first recording date was with Hot Lips Page on March 18, 1944. Later in 1944 he started recording with both Lucky Millinder and Count Basie.
He officially started recording under his own leadership in 1945. In July of 1945 he was in Los Angeles recording with Count Basie, and he did many sessions in California for the next few years. On January 17, 1947, back in New York, he played on a WPIX jam session with Miles Davis. The following month he started broadcasting from the Royal Roost in NYC in the front line along with trumpeter Kenny Dorham and the Charlie Parker All Stars.
In 1952 he recorded one of the incredibly hard compositions of Thelonious Monk, with Thelonious, for Blue Note (Skippy). Check this out if you can—he plays and solos on it with such ease. In 1954, on Miles Davis's "Walkin'" album, more masterful performances. In February 1956 he joined Stan Kenton's band in Paris.
By this time Lucky was already playing soprano sax. This was before Coltrane played soprano. Once Coltrane started playing the instrument, many other saxophonists began to double on soprano, with most trying to emulate Coltrane's sound, which is totally different from Lucky's sound. Lucky's soprano sound is not often discussed, but cannot be recommended enough.
Lucky lived in Europe from 1957 to 1963. When he came back to the US he recorded several albums for Prestige including one of my favorite albums, "Lucky Strikes." He returned to Europe for three years in 1968. He recorded again in the US in 1972 and 1973, and taught at Dartmouth and Yale in 1973-1974. He then withdrew from the music business and public life.
Learn more about Lucky at Noal Cohen's Lucky Thompson Discography.
A personal note from Don Sickler:
"I was blessed to make his acquaintance in a wooded area of Seattle, Washington. When Lucky elected to drop out of public life, he left many friends who were concerned about him. One was Nellie Monk, Thelonious' widow, who told me if I ever ran into Lucky, to please give him her warmest love. As luck would have it, I did find Lucky and gave him Nellie's message. It produced a big Lucky smile and a message back to Nellie that he was all right.
Lucky spent his last years in an Assisted Living Center in Seattle. I would visit him when I was in Seattle, one time taking Thelonious' son, T.S. Monk, along with the saxophonists in the T.S. Monk group, Bobby Porcelli and Willie Williams. Lucky was very humble about his own contributions to music. He was also definitely one of the deepest and most spiritual people I have ever met."