Bo-Bi My Boy

– Eli "Lucky" Thompson

From the same session as A Lady's Vanity comes this swinging blues head. The intro has a series of bass solo fills; our Bass part shows what Oscar Pettiford played here on the recording.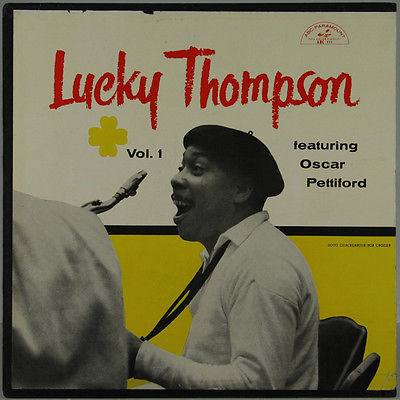 All selected items will be available for download after purchase.
Recording:

Lucky Thompson - Featuring Oscar Pettiford, Vol. 1

Recorded on:

January 24, 1956

Label:

ABC-Paramount (ABC 111)

Concert Key:

E-flat

Vocal Range:

, to

Style:

Swing (medium)
Tenor Sax - Eli "Lucky" Thompson
Guitar - Skeeter Best
Bass - Oscar Pettiford
A blues head with that classic ornamental yet deep quality that Lucky made his own. The melody is relatively simple at first, but the changes are quite sophisticated with a lot of chromatic and stepwise approaches. Starting in the eighth measure, the tonality is slightly obscured, with the changes winding chromatically around D♭m7 to G♭7: a tritone substitute III-VI7 that works out in the tenth measure to Fm7. This is followed immediately, the first time through the head, by a classic "
Tadd Dameron
" turnaround; the sustained melody note B♭ connects these chords.
There is an eight-measure intro that reappears as an ending, featuring a series of solo breaks for the bass. On our Bass part, we show Oscar Pettiford's breaks from the recording.
Solos on the recording are on standard E♭ blues. However, the substitute changes of the head can also be explored, as they are a welcome challenge to solo on.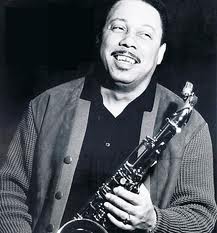 June 16, 1923 – July 30, 2005
Saxophonist Lucky Thompson is one of the great treasures of jazz. He was born in Columbia, South Carolina, but was raised in Detroit, Michigan. He played in local groups with Hank Jones, Sonny Stitt and others. In August, 1943, when he was 19, he left Detroit with Lionel Hampton's Orchestra, eventually arriving in New York City. Still a teenager, his first recording date was with Hot Lips Page on March 18, 1944. Later in 1944 he started recording with both Lucky Millinder and Count Basie. Read more...