Lady's Vanity

– Eli "Lucky" Thompson

This ballad has no written melody but is rather Lucky's improvisation over the standard Body And Soul. Due to a title mix-up, it has long been confused with Deep Passion, an entirely different original composition of Lucky's. With both songs now available on jazzleadsheets.com, we hope to clear up this confusion.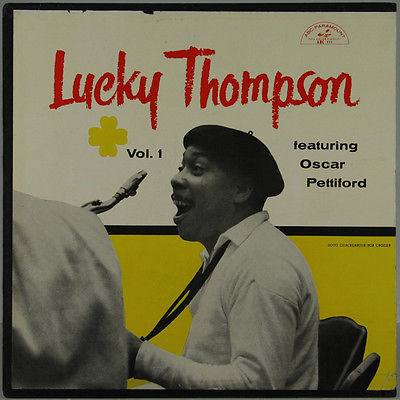 All selected items will be available for download after purchase.
Recording:

Lucky Thompson - Featuring Oscar Pettiford, Vol. 1

Recorded on:

January 24, 1956

Label:

ABC-Paramount (ABC 111)

Concert Key:

D-flat

Vocal Range:

, to

Style:

Ballad
Tenor Sax - Lucky Thompson
Guitar - Skeeter Best
Bass - Oscar Pettiford
The recording correctly titled
A Lady's Vanity
consists of Lucky Thompson's improvisation on the changes of
Body And Soul,
with a written intro and ending. Our Solo Transcription therefore takes the place of a lead sheet. Besides Lucky's solo, our editions contain the mostly solo guitar intro and ending. Lucky plays two choruses, followed by a half-chorus which consists of a bass solo on the bridge, and one more C section of Lucky's improvisation, also included in our editions. For more details about Lucky's playing, click on the Solos tab.
Click on Historical Notes for an explanation of the confusion surrounding the title.
Check out other titles from the
same album
, and see what's on their
Volume 2
collaboration.
On many editions of this album, this track was titled
Deep Passion
; the name
A Lady's Vanity
was applied to a different ballad that is Lucky's own improvised composition. The latter has turned out to be the true
Deep Passion
.
Don Sickler: "It is extremely gratifying to be able to straighten out something in jazz history that has been misconstrued or, in this case, mislabeled, for years. Here, the wrong title was put on a recorded track. I've run into some situations in my career in jazz where wrongly-assigned titles have been impossible to correct; I've found the true facts, but haven't been able to make sure the correct name was put on the correct composition. In this case, however, the two titles can be officially restored to the songs they were intended for."
Lucky Thompson Transcribed Tenor Sax Improvisation:
It's true that Lucky starts his improvisation by playing the first four notes of the melody of
Body and Soul
, however, his rhythmical approach to those notes is altogether different:
clip
. He then repeats the fourth note, which gives this last note the emphasis in his phrase. In the second measure, he repeats his four-note pattern in a new rhythmic context, and then plays it down a half step in yet another rhythmic context. From the third measure, he develops his solo line into a magical Lucky Thompson journey over his view of the chord progression of
Body and Soul
. Though the sixteenth-note lines throughout the solo may at first seem intimidating, at this slow tempo they move along at a moderate pace and are a classic example of Lucky's unique phrasing and articulation. The truly fast passages are in the bridge of the second chorus: four measures of 32nd-note runs with the signature elegance that characterizes his ballad playing.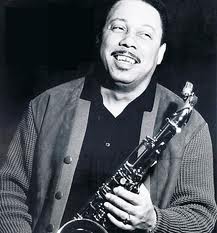 June 16, 1923 – July 30, 2005
Saxophonist Lucky Thompson is one of the great treasures of jazz. He was born in Columbia, South Carolina, but was raised in Detroit, Michigan. He played in local groups with Hank Jones, Sonny Stitt and others. In August, 1943, when he was 19, he left Detroit with Lionel Hampton's Orchestra, eventually arriving in New York City. Still a teenager, his first recording date was with Hot Lips Page on March 18, 1944. Later in 1944 he started recording with both Lucky Millinder and Count Basie. Read more...