Tom-Kattin'

– Eli "Lucky" Thompson

An elegant "rhythm changes" head with a classic bebop intro and interlude. A transcription of Lucky's solo is available.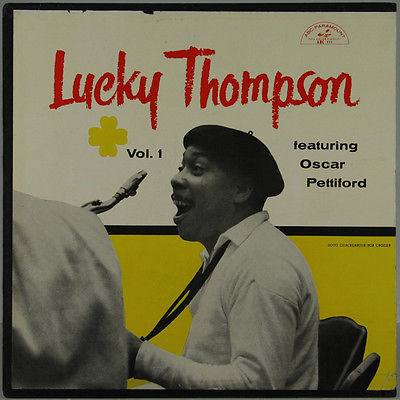 All selected items will be available for download after purchase.
Recording:

Lucky Thompson - Featuring Oscar Pettiford, Vol. 1

Recorded on:

January 30, 1956

Label:

ABC-Paramount (ABC 111)

Concert Key:

F, No key center

Vocal Range:

, to

Style:

Swing (medium up)
Trombone - Jimmy Cleveland
Tenor Sax - Lucky Thompson
Piano - Hank Jones
Bass - Oscar Pettiford
Drums - Osie Johnson
This swinging line is a welcome addition to the relatively few "rhythm changes" heads in the key of F. The beginning of the A section melody focuses on D, the 6th of the tonic chord and always one of the "pretty notes." The third and fourth measures of the bridge, which would usually have a D7 chord, here use D minor—a substitution that also occurs in Dizzy Gillespie's
Salt Peanuts
.
There is an eight-measure intro whose melody begins by arpeggiating the upper extensions of F13(♯11) and G13(♯11)—a common bebop tonality. There is also an interlude that occurs before and between solos: four measures of circle-of-fourths changes, and a two-measure break. On this recording, this interlude is used to launch the first soloist (Hank Jones) and again between Jimmy Cleveland's and Lucky's solos. A transcription of the latter is available; click on the Solos tab for more details.
Check out titles from both Thompson/Pettiford collaborations: "
Vol. 1
" and "
Vol. 2
."
Less than a month after this album was recorded, Lucky went to Paris for four months. Like this song, five of Lucky's original songs he recorded there are related to "rhythm changes."
Historian Noal Cohen has researched Lucky's life and recordings. Visit his
website
for more information.
A few years before the end of Lucky's life, jazzleadsheets.com's
Don Sickler
found him in a Seattle forest where they had an intense spiritual meeting. Don passed on Nellie Monk's (wife of Thelonious Monk) heartfelt greetings. In following years, Don visited Lucky in Seattle, often bringing visiting musicians, like drummer T.S. Monk and pianist
Ronnie Mathews
.
Lucky Thompson Transcribed Tenor Sax Solo
This is the first Lucky Thompson solo we are making available aside from melody transcriptions on the ballads
Once There Was
and
To A Mornin' Sunrise
. On
Tom-Kattin'
Lucky plays two choruses; this solo
solo
is relatively simple and a good place to start with Lucky's unique style. Articulations are marked clearly, showing his tasteful and unpredictable use of slurs in mostly tongued passages. Notable chord alterations and substitutions are also indicated. Available in C and B♭ editions.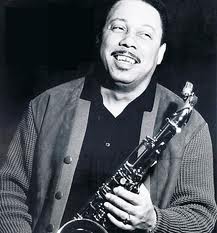 June 16, 1923 – July 30, 2005
Saxophonist Lucky Thompson is one of the great treasures of jazz. He was born in Columbia, South Carolina, but was raised in Detroit, Michigan. He played in local groups with Hank Jones, Sonny Stitt and others. In August, 1943, when he was 19, he left Detroit with Lionel Hampton's Orchestra, eventually arriving in New York City. Still a teenager, his first recording date was with Hot Lips Page on March 18, 1944. Later in 1944 he started recording with both Lucky Millinder and Count Basie. Read more...