To A Mornin' Sunrise

– Eli "Lucky" Thompson

A beautiful, little-known ballad that is classic Lucky Thompson. In addition to the lead sheet, a transcription is available of his interpretation of the melody in Lucky's B♭ tenor sax key, and also a C concert edition.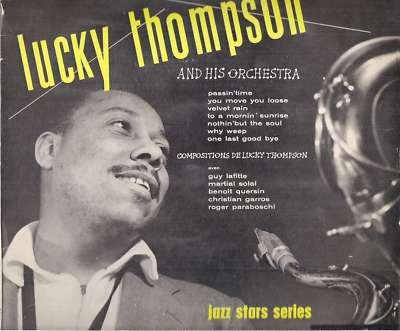 All selected items will be available for download after purchase.
Recording:

Lucky Thompson - Lucky Thompson And His Orchestra

Recorded on:

April 5, 1956

Label:

French Columbia (FP 1083)

Concert Key:

B-flat

Vocal Range:

, to

Style:

Ballad
Tenor Sax - Lucky Thompson
Piano - Martial Solal
Bass - Benoit Quersin
Drums - Roger Paraboschi
Lucky Thompson had a very distinctive way of writing ballads, especially with regard to the chord progression. This is a good example of his ballad style. The changes of this one explore a lot of tritone substitutions, the most notable being the second measure, which has a tritone sub II-V to E♭ major (the IV chord) in the third measure. Also notable is the first ending of the A section, where the G7 leads to G♭ instead of C. Many of the bridges of Lucky's ballads visit at least three major key centers besides the tonic; here they are G♭, D and D♭. The melody weaves the changes together with smooth, stepwise motion. Most of Lucky's ballads, such as this one, end on the tonic chord in the last measure with the root in the melody. This never sounds clichéd, however, because it provides a fitting closure to the harmonic twists and turns that occurred earlier.
Tenor Sax Melody Transcription:
The Melody Transcription details everything Lucky played on the in head, with all embellishments and fills. After soloing on the A and B sections of the next chorus, he returns to the melody at C and concludes with a cadenza; these sections are also in the transcription. Articulations are clearly marked in so you can really see what makes his style unique. Take a listen to Lucky at the bridge
clip
.
In 1956, Lucky Thompson was in Paris for four months, from February to May. In this trip he recorded at least two dozen original compositions, many arranged for five horns and rhythm section. Pianist Martial Solal and bassist Benoit Quersin played on all of these recordings. Despite its name, "Lucky Thompson and his Orchestra" is not a big band album; in fact, four of the album's seven songs feature this quartet, while the other three add fellow tenor saxophonist Guy Lafitte. This song, like most of Lucky's compositions from this trip, has not yet been recorded by anyone else.
Learn more about Lucky at
Noal Cohen's Lucky Thompson Discography
.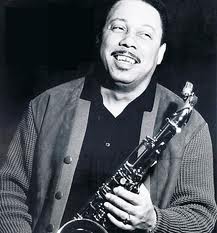 June 16, 1923 – July 30, 2005
Saxophonist Lucky Thompson is one of the great treasures of jazz. He was born in Columbia, South Carolina, but was raised in Detroit, Michigan. He played in local groups with Hank Jones, Sonny Stitt and others. In August, 1943, when he was 19, he left Detroit with Lionel Hampton's Orchestra, eventually arriving in New York City. Still a teenager, his first recording date was with Hot Lips Page on March 18, 1944. Later in 1944 he started recording with both Lucky Millinder and Count Basie. Read more...