N R #2

– Eli "Lucky" Thompson

A swinging Lucky Thompson piece that develops complexity as it goes.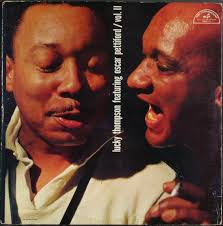 All selected items will be available for download after purchase.
Recording:

Lucky Thompson - Featuring Oscar Pettiford, Vol. 2

Recorded on:

December 12, 1956

Label:

ABC-Paramount (ABC 171)

Concert Key:

F

Vocal Range:

, to

Style:

Swing (medium up)
Trombone - Jimmy Cleveland
Tenor Sax - Lucky Thompson
Piano - Don Abney
Bass - Oscar Pettiford
Drums - Osie Johnson
Our audio excerpt starts with the intro (which also becomes the coda and ends the arrangement). The melody is firmly rooted in the familiar I-VI-II-V progression, which then moves up a fourth to restate the A section melody. You hear the start of the bridge in our audio excerpt, harmonically a downward chromatic movement of dominant seventh chords. It then changes melodically, but still cycles through the same dominants, this time as II-Vs, before returning to the original A section melody to end the form. This is a fun set of changes to solo on, and it's not hard, but it's fundamentally important for inexperienced players to master.
You can see an attempt at clarifying the meaning of the title in the Historical Notes that accompany
N R #1
. I'm sure Lucky, were he living, would like to see these referred to as "Next Recording #2," as well as a "Next Recording #1." Along with the
Lucky Thompson discography
, Noal also provides
The Compositions Of Eli "Lucky" Thompson."
I haven't counted this list of compositions, but as you'll see, if you examine it, it's formidable, with no mention of any "untitled" compositions except these two titles.
Check out other titles from this
album
, and see what's on
Volume 1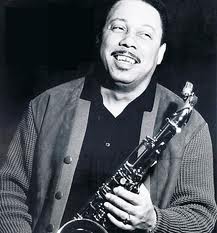 June 16, 1923 – July 30, 2005
Saxophonist Lucky Thompson is one of the great treasures of jazz. He was born in Columbia, South Carolina, but was raised in Detroit, Michigan. He played in local groups with Hank Jones, Sonny Stitt and others. In August, 1943, when he was 19, he left Detroit with Lionel Hampton's Orchestra, eventually arriving in New York City. Still a teenager, his first recording date was with Hot Lips Page on March 18, 1944. Later in 1944 he started recording with both Lucky Millinder and Count Basie. Read more...