N R #1

– Eli "Lucky" Thompson

An angular blues with an unusual addition to the form, this quirky Lucky Thompson piece is pure fun.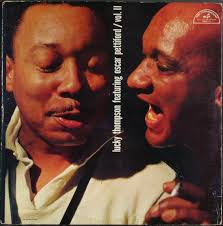 All selected items will be available for download after purchase.
Recording:

Lucky Thompson - Featuring Oscar Pettiford, Vol. 2

Recorded on:

December 12, 1956

Label:

ABC-Paramount (ABC 171)

Concert Key:

B-flat

Vocal Range:

, to

Style:

Swing (medium)
Trombone - Jimmy Cleveland
Tenor Sax - Lucky Thompson
Piano - Don Abney
Bass - Oscar Pettiford
Drums - Osie Johnson
N R #1 is an unconventional piece that stays true to Lucky Thompson's signature style. An interesting "tutti" start to the intro leads into a rhythmic counterpoint between the two horns (bit it could also work great with just one horn and the rhythm section). The intro contains the only horn harmonies, so both parts are included in all our lead sheet editions. The melody twists through the blues progression leading to an unexpected tritone substitution for a normal V chord in the ninth measure. Instead of ending after twelve bars, Lucky tacks on an extra four-measure section, first leading to a Bass solo break for Oscar Pettiford to set up the return of the melody. The second time around this new section sets up a solo break for the first soloist. On the out chorus, it sets up the ending chord. They solo on a straight blues on the recording, but it would be interesting to try soloing on the whole form.
Don Sickler: "This title (and Lucky's composition
N R #2
from the same album) was very puzzling to me, as to what could possibly be the meaning of the title. Lucky was a deep musician and personality, so I was always looking for a hidden meaning. Recently I asked Noal Cohen, who created a very valuable
Lucky Thompson discography
site, if he knew what the titles meant. He hadn't come up with anything special: he thought that Lucky didn't have specific titles in mind so they became "Not Recorded number 1" and "Not Recorded number 2" when the recording took place. That certainly makes sense to me now, except, since Lucky did record them, I'm now going to refer to them as "Now Recorded #1" and "Now Recorded #2."
Check out other titles from this
album
, and see what titles are on their
Volume 1
collaboration.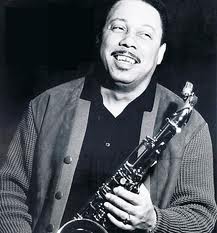 June 16, 1923 – July 30, 2005
Saxophonist Lucky Thompson is one of the great treasures of jazz. He was born in Columbia, South Carolina, but was raised in Detroit, Michigan. He played in local groups with Hank Jones, Sonny Stitt and others. In August, 1943, when he was 19, he left Detroit with Lionel Hampton's Orchestra, eventually arriving in New York City. Still a teenager, his first recording date was with Hot Lips Page on March 18, 1944. Later in 1944 he started recording with both Lucky Millinder and Count Basie. Read more...