Prey-Loot

– Eli "Lucky" Thompson

This composition has been recorded several times, but unfortunately Lucky's marvelous recording from his "Lucky Strikes" album isn't currently available as a download. Our lead sheet editions come from Lucky's recording, so in order to fully understand the inspiration for the other recordings discussed here, please listen to the clip of his own performance.
Recording:

Lucky Thompson - Lucky Strikes

Recorded on:

September 15, 1964

Label:

Prestige (PR 7365)

Concert Key:

F

Vocal Range:

, to

Style:

Swing (medium)
Soprano Sax - Lucky Thompson
Piano - Hank Jones
Bass - Richard Davis
Drums - Connie Kay
All our lead sheet editions show Lucky's stop-and-go rhythm section hits that are so important to this composition. Listening to it, you might become so engrossed with the melody and the rhythmic hits that drive it, that you probably won't immediately realize that this is Lucky's set up for F blues solos.

Although the drums play with sticks, Connie Kay plays on the hi-hat for the melody, giving it a light feel. Lucky's tempo is ca. 168.

In addition to being one of jazz's great tenor saxophonists, Lucky is also one of the very best on soprano sax. He has one of the most beautiful soprano sounds, as you can hear on this track. Be sure to tell any sax players you know about Lucky's soprano sound and encourage them to check him out.

Please note that the lead sheets under each album cover are identical; no need to buy two.

Lucky's first recording date was with trumpeter Hot Lips on March 8, 1944. Exactly nineteen years later, on March 8, 1963, Lucky recorded his session "Lucky Thompson Plays Jerome Kern and No More," the one previous to his "Lucky Strikes" album that produced his marvelous recording of
Prey-Loot
(recorded September 15, 1964).
Author/jazz historian Noal Cohen has written an article on
Lucky Thompson
with saxophonist Chris Byars. Noal's Jazz History Website also has a
Lucky Thompson Discography
.
Recording:

Tad Shull - In The Land Of The Tenor

Recorded on:

December 17, 1991

Label:

CrissCross (1071)

Concert Key:

F, No key center

Vocal Range:

, to

Style:

Swing (medium)
Tenor Sax - Tad Shull
Piano - Mike LeDonne
Bass - Dennis Irwin
Drums - Kenny Washington
Here, Tad Shull plays the melody on tenor sax. Lucky Thompson played it on soprano sax on his "Lucky Strikes" album. Our audio excerpts start right on the melody. Tad sets up the melody with his own stop and go introduction with the rhythm section before handing it over to drummer Kenny Washington to set up the melody. Tad hears the tempo a little faster (ca. 180) than Lucky's recording, which was at ca. 168. On tenor, he also doesn't hear it as light as Lucky heard it for soprano, so Kenny Washington is not playing sticks on the hi-hat for the melody.

Please note that the lead sheets under each album cover are identical.
Don Sickler: "This is the first recording of
Prey-Loot
we've found after Lucky's original 1964 recording. Drummer Kenny Washington was the first one to tell me about saxophonist Tad Shull, and that was probably around the time of this recording. Tad has spent a lot of time studying Lucky, and he's also recorded two of Lucky's beautiful ballads. In 1990 he recorded
Deep Passion
, and in 1994 he recorded
I Forgot To Remember
. Tad also wrote the article 'When Backward Comes Out Ahead: Lucky Thompson's Phrasing and Improvisation,' which is published in the Annual Review of Jazz Studies 12 (2003). If you'd like to hear and see Tad play, check out his performances of
Soul Station
and
The Break Through
, both composed by another jazzleadsheets.com hero tenor saxophonists,
Hank Mobley
."
Recording:

Regina Carter - Motor City Moments

Recorded on:

April, 2000

Label:

Verve (314-543926)

Concert Key:

F

Vocal Range:

, to

Style:

Swing (medium)
Violin - Regina Carter
Piano - Barry Harris
Bass - Darryl Hall
Drums - Lewis Nash
This version comes from a gifted Detroit musician, but from a much later generation than raised-in-Detroit tenor and soprano saxophonist Lucky Thompson. It's very interesting to hear how Regina adapted it for violin. She heard it at a little slower tempo (ca. 152) than Lucky heard it on soprano sax (ca. 168). Our audio excerpt starts on the melody. Regina heard Lucky's light approach, and she elected to have the drums play brushes for the melody. She also had drummer Lewis Nash set up the melody with a one chorus (12-measure) solo. On the repeat of the melody, you'll notice she elected to go into a straight 4-feel (bass walking). For the repeat of the out chorus melody, the bass played the melody with her down an octave.

Please note that the lead sheets under each album cover are the same; the differences in the performances are noted in the Descriptions.
Lucky recorded
Prey-Loot
in 1964, two years before Regina Carter was even born. Detroit-born pianist
Barry Harris
, who plays on Regina's recording, is only five and a half years younger than Lucky. We haven't found any recordings the two made together, but the Detroit connection Regina celebrates with her CD is there.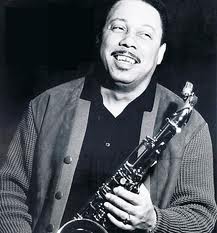 June 16, 1923 – July 30, 2005
Saxophonist Lucky Thompson is one of the great treasures of jazz. He was born in Columbia, South Carolina, but was raised in Detroit, Michigan. He played in local groups with Hank Jones, Sonny Stitt and others. In August, 1943, when he was 19, he left Detroit with Lionel Hampton's Orchestra, eventually arriving in New York City. Still a teenager, his first recording date was with Hot Lips Page on March 18, 1944. Later in 1944 he started recording with both Lucky Millinder and Count Basie. Read more...