I Forgot To Remember

– Eli "Lucky" Thompson

A warm, romantic ballad in the signature Lucky Thompson style, this song starts and ends in B♭ and visits a wide variety of key centers in between. We have a Melody Transcription showing how Lucky plays the in and out heads on the recording.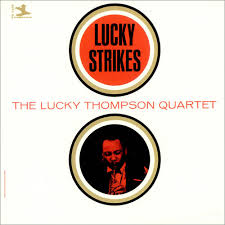 All selected items will be available for download after purchase.
Recording:

Lucky Thompson - Lucky Strikes

Recorded on:

September 15, 1964

Label:

Prestige (PR 7365)

Concert Key:

B-flat

Vocal Range:

, to

Style:

Ballad
Tenor Sax - Lucky Thompson
Piano - Hank Jones
Bass - Richard Davis
Drums - Connie Kay
This ballad is an adventure through a variety of key centers, with that signature Lucky Thompson sophistication. The melody is warm and wistful; several important notes are the 7ths or upper extensions of the chords. Starting in B♭, the A section visits both D♭ and D; the bridge begins in G♭ and lands briefly in B and D in the second half. The C section is similar to the A section, but goes back to D♭ in the seventh and eighth measures before returning to B♭ for a 6-measure tag: three measures of "turnaround" (with a melody based on the beginning of the A section) and three measures of chromatically shifting triads over a tonic pedal point. Many resolutions in this song's changes are stretched or substituted. For example, Dmaj7 in the fifth measure of the A section is preceded by B♭m7—a smooth transition from D♭maj7 which is also the II of a tritone substitute II-V7. The end of the first A section contains a stretched III-VI7-II-V7 with one measure of D minor, two beats of G7 and then one beat each of F7 and its tritone substitute, B7. A chromatically descending piano countermelody is shown in the last two measures of the second A; the bass descends chromatically in the last measure of the bridge for a II-V7 of V7.
The piano intro
CLIP
is shown in our lead sheets: a dramatically rising and falling line in mostly ascending triads over a B♭ pedal. The ending has similar triad/pedal figures, slightly different from the end of the head.
Our
Melody Transcription
, available in B-flat and C, shows how Lucky plays the head on the recording. After the head, he solos for the two A sections; after a piano solo on the bridge, he takes the head out from C.
CLIP
This last section is in our transcription. We have detailed articulations for an in-depth look at Lucky's melody interpretation. In this song he plays a lot of pickup figures of two 16th note triplets, for a slight implied double-time feel.
Lucky Thompson wrote more ballads in B♭—major or minor—than any other key. For more of Lucky's B♭ ballads, check out
To A Mornin' Sunrise
(major) and
Deep Passion
(minor).
I Forgot To Remember
was recorded in 1994 by saxophonists Mark Turner and Tad Shull for their album "Two Tenor Ballads." Bonnie Strickman recorded a vocal version in 1996 on her debut album, "Wonders Never Cease," featuring trombonist Robin Eubanks. Yet another version is by tenor saxophonist Sam Rivers, on his 2004 piano-less trio album "Violet Violets."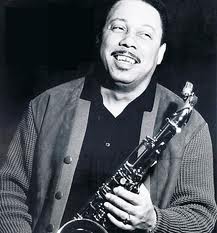 June 16, 1923 – July 30, 2005
Saxophonist Lucky Thompson is one of the great treasures of jazz. He was born in Columbia, South Carolina, but was raised in Detroit, Michigan. He played in local groups with Hank Jones, Sonny Stitt and others. In August, 1943, when he was 19, he left Detroit with Lionel Hampton's Orchestra, eventually arriving in New York City. Still a teenager, his first recording date was with Hot Lips Page on March 18, 1944. Later in 1944 he started recording with both Lucky Millinder and Count Basie. Read more...