Lord, Lord, Am I Ever Gonna Know?

– Eli "Lucky" Thompson

A blues-infused medium swinger with a classic soul-jazz sound. Like many later Lucky Thompson songs, the solos on the recording are on blues changes; the head changes can be used instead.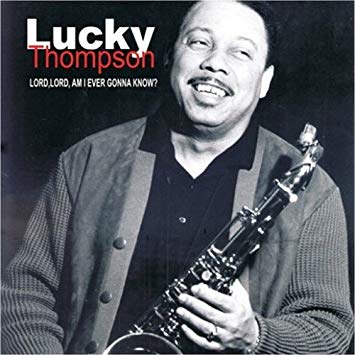 All selected items will be available for download after purchase.
Recording:

Lucky Thompson - Lord, Lord, Am I Ever Gonna Know?

Recorded on:

1961

Label:

Candid (CM 8019)

Concert Key:

F

Vocal Range:

, to

Style:

Swing (medium)
Tenor Sax - Lucky Thompson
Piano - Martial Solal
Bass - Peter Trunk
Drums - Kenny Clarke
This medium swinger has a simple riff head with a classic soul-jazz sound. The words of the title are implied by the melodic rhythm. The blues-scale riff suggests an F minor tonality, but the head ends in F major so our lead sheets show that key signature. The head is 24 measures long, in three eight-measure sections; the B section has the same melody as A transposed up a fourth. C starts similarly to A but breaks off from the riff starting in the fifth measure, with a major-key resolution. The changes are largely a series of minor "turnarounds," using several different combinations of E♭7, D♭7, and A♭7 to approach Gm7♭5 (and the same thing up a fourth in the B section). At the end of the head, a "walk up" changes the tonality to major.

Solos on the recording are 12-measure blues; the head changes could definitely also be used for solos. The recording has an intro, which we show on the lead sheet. It's a vamp on Fm(maj7) with a Latin groove; Lucky plays a melodic line over the vamp for eight measures, followed by a two-measure piano break and a two-measure drum break leading into the head. The ending vamps and fades out on the last two measures of the head.
This little-known album was recorded in Paris, where Lucky lived through much of the late '50s to early '60s. Martial Solal was a frequent collaborator of Lucky's during this time and also earlier, when Lucky visited Paris in 1956. Lucky and Kenny Clarke first recorded together on Miles Davis' classic "Walkin'" session in 1954. Lucky, Kenny and Martial played together in quartet settings variously with each of them as the leader, with different bassists, mostly in Paris in the years Lucky lived there. German bassist Peter Trunk had previously played with Kenny Clarke on an all-star concert in 1958 in Baden-Baden, featuring Zoot Sims with fellow saxophonists Hans Koller and Helmut Brandt.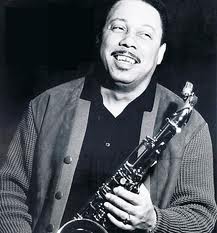 June 16, 1923 – July 30, 2005
Saxophonist Lucky Thompson is one of the great treasures of jazz. He was born in Columbia, South Carolina, but was raised in Detroit, Michigan. He played in local groups with Hank Jones, Sonny Stitt and others. In August, 1943, when he was 19, he left Detroit with Lionel Hampton's Orchestra, eventually arriving in New York City. Still a teenager, his first recording date was with Hot Lips Page on March 18, 1944. Later in 1944 he started recording with both Lucky Millinder and Count Basie. Read more...