Good Luck

– Eli "Lucky" Thompson

Yet another elegant blues variation from Lucky Thompson's classic recordings with Oscar Pettiford. Like Mister Man, this one has an intro with a four-measure bass break.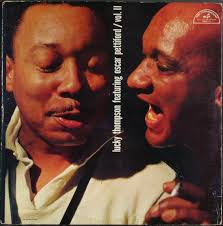 All selected items will be available for download after purchase.
Recording:

Lucky Thompson - Featuring Oscar Pettiford, Vol. 2

Recorded on:

December 12, 1956

Label:

ABC-Paramount (ABC 171)

Concert Key:

B-flat

Vocal Range:

, to

Style:

Swing (medium)
Trombone - Jimmy Cleveland
Tenor Sax - Lucky Thompson
Piano - Don Abney
Bass - Oscar Pettiford
Drums - Osie Johnson
Lucky Thompson wrote many blues heads that deserve wider recognition; this is certainly one of them. It is very much a major blues, with both the I and IV chords having major rather than dominant qualities. The melody winds upward at first, mostly stepwise, before gradually mostly descending from the fifth measure. The changes also ascend at first, with an unexpected switch to a downward direction in the third measure—Dm7 to F♯m7 to lead to Fm7-B♭7-E♭maj7. After that there is a II-V7 to D♭ major instead of the expected tonic in the seventh measure; the "turnaround" is a largely chromatic walk-down from dominant to tonic.
On this recording, the solos are on standard blues changes. There is an intro, which like that of
Mister Man
contains eight measures of written material followed by a four-measure bass solo break. In this case there is a stop-and-go series of rhythmic figures, a conversation between the full band and the drums; the ensemble figures are full of that chromatic approach that Lucky excelled at.
The horns harmonize at two points in the intro, with the trombone taking the upper notes. The tenor sax adds a countermelody line in the fifth measure of the head, and one note of harmony on the seventh. The out head ends with a melodic break leading to unexpected E♭maj7(♯9) and Dmaj7 chords; these are harmonized with tenor above and trombone below. These harmonies are shown in the C treble and bass clef lead sheets as well as the B♭ tenor sax lead sheet.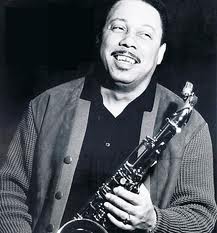 June 16, 1923 – July 30, 2005
Saxophonist Lucky Thompson is one of the great treasures of jazz. He was born in Columbia, South Carolina, but was raised in Detroit, Michigan. He played in local groups with Hank Jones, Sonny Stitt and others. In August, 1943, when he was 19, he left Detroit with Lionel Hampton's Orchestra, eventually arriving in New York City. Still a teenager, his first recording date was with Hot Lips Page on March 18, 1944. Later in 1944 he started recording with both Lucky Millinder and Count Basie. Read more...