Mid-Nite Oil

– Eli "Lucky" Thompson

One of Lucky Thompson's very few compositions in 3/4, Mid-Nite Oil is classic later Lucky with a bouncy rhythmic melody and quite a long form. Solos on the recording are on blues changes but the head changes could also be used.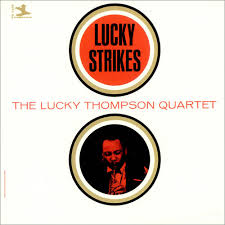 All selected items will be available for download after purchase.
Recording:

Lucky Thompson - Lucky Strikes

Recorded on:

September 15, 1964

Label:

Prestige (PR 7365)

Concert Key:

B-flat

Vocal Range:

, to

Style:

3/4 swing (medium up)
Soprano Sax - Lucky Thompson
Piano - Hank Jones
Bass - Richard Davis
Drums - Connie Kay
Lucky in 3! Mid-Nite Oil is a great example of how easily Lucky Thompson's distinctive rhythmic feel and light touch translate to 3/4 time. This song has quite a long form—AABC with 16-measure A and C sections and a 24-measure bridge, plenty of time for all the melodic elegance and harmonic subtlety of Lucky's signature style. The melody is bouncy and conversational, covering a wide range; the bridge melody is quite bluesy, contrasting with the A section's major tonalities. The A section changes go through a descending series of key centers: B♭, A, and A♭ with a somewhat unexpected return to B♭. The beginning of the bridge has pedal-like rhythm section hits, alternating B♭7sus and B♭7 and twice shifting up to C7.

There is a 16-measure intro with the rhythm section entering one by one: first the drums (cymbal only) for four measures, then four measures adding a bass vamp, and eight measures with rhythmic piano figures over the same vamp. This intro is shown in all our lead sheets. The ending vamps shifting harmonies over a bass pedal alternating B♭ and F.

Solos on the recording use 24-measure B♭ blues changes. However, as with many Lucky Thompson songs, the head changes work just as well for soloing.
Besides
Mid-Nite Oil,
one of the very few other Lucky Thompson songs in 3/4 is
Slow Dough
from his 1965 album "
Lucky Is Back!
" Saxophonist Patrick Wolff recorded
Mid-Nite Oil
on his 2013 album "Go Down Swinging;" this album also has a version of Lucky's
Tom-Kattin'
.
The five recording sessions that bassist Richard Davis played on in September 1964 were all recorded by Rudy Van Gelder at his recording studio in Englewood Cliffs, New Jersey. The first of these, on September 3rd, was one session for
Gary McFarland
's "Soft Samba" album. The day before the "
Lucky Strikes
" session, Davis was at Van Gelder's to record on
Kenny Dorham
's "
Trompeta Toccata
"; a week later he played on the two sessions for Johnny Hartman's "The Voice That Is," alongside Hank Jones and guitarist
Barry Galbraith
.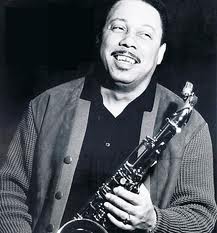 June 16, 1923 – July 30, 2005
Saxophonist Lucky Thompson is one of the great treasures of jazz. He was born in Columbia, South Carolina, but was raised in Detroit, Michigan. He played in local groups with Hank Jones, Sonny Stitt and others. In August, 1943, when he was 19, he left Detroit with Lionel Hampton's Orchestra, eventually arriving in New York City. Still a teenager, his first recording date was with Hot Lips Page on March 18, 1944. Later in 1944 he started recording with both Lucky Millinder and Count Basie. Read more...