Gary McFarland
October 23, 1933 – November 3, 1971
| | |
| --- | --- |
| Instrument | vibes, arranger |
| Birthplace | Los Angeles, CA |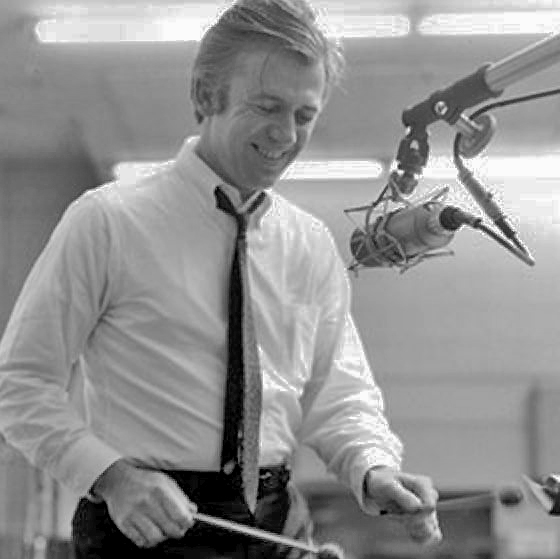 Gary McFarland, though not a well-known name today, was one of the most important forces in orchestral jazz and bossa nova in the mid-20th century. Critic Gene Lees aptly described him as an "adult prodigy;" his compositions and arrangements were regarded as complex, sensitive, emotional, and sometimes delightfully simple. He was a talented vibraphonist and singer as well.
Gary's first exposure to jazz came during his time in the army, during which he attempted to teach himself trumpet, trombone, and piano.. In 1955, he took up the vibraphone and began to write music, which became his primary interest. After one semester at Berklee College of Music in 1959, pianist John Lewis encouraged him to focus instead on his own large-ensemble arrangements—worthwhile advice indeed, as Gary quickly gained the attention of many big names: saxophonists Gerry Mulligan, Johnny Hodges, Stan Getz, trombonist Bob Brookmeyer, and vocalist Anita O'Day. His work with these stars propelled him to success, as did several projects that followed, like his jazz arrangement of the popular Broadway score of Frank Loesser's "How To Succeed In Business Without Really Trying." All of these projects showed different facets of Gary's complex musical background, from the dark, classical-inspired orchestral settings behind Anita O'Day to the bright bossa nova for Stan Getz, revealing Gary to be a deeply multifaceted artist even early in his career.
His career reached new heights in 1963 with the release of the first album under his own name, "The Gary McFarland Orchestra/Special Guest Soloist: Bill Evans." Continuing his exploration of different styles, Gary then went on to release "Points Of Departure," a small-group setting featuring his vibes playing, and then compose a short ballet. 1964 brought Gary's first controversy: "Soft Samba," a pop-jazz crossover album that set Beatles songs and other pop-rock covers to samba rhythms. Although it attracted a sizable audience, "Soft Samba" alienated some of Gary's initial fanbase, who saw it as a departure from more serious jazz. Nevertheless, it established him as a jazz artist with significant popular appeal, leading some to remember Gary as "the jazz legend who should have been a pop star."
Piggybacking off of the success of "Soft Samba," Gary formed his first performing group with guitarist Gabor Szabo, saxophonist Sadao Watanabe, bassist Eddie Gomez, and drummer Joe Cocuzzo later in 1964. In 1966, Gary returned to orchestral performances and in early February was featured at New York City's Lincoln Center in concert. He continued recording, arranging, and writing for a variety of labels until 1968 when he, Gabor Szabo, and Cal Tjader formed their own label, Skye Recordings. Gary continued to record under Skye, which went under in 1970. By this point, a majority of Gary's recordings had a pop slant.
In the early 1970s, Gary turned to composing for film, a longtime dream of his. He wrote the score to the feature films "Slave" and "Who Killed Mary What's 'Er Name" and was continuing to break into the scene when he was poisoned in a New York bar in 1971. Few details are known about the incident, but we do know that a magnificent talent was lost.