Ernie Wilkins
July 20, 1922 – June 5, 1999
| | |
| --- | --- |
| Instrument | tenor sax |
| Birthplace | St. Louis, MO |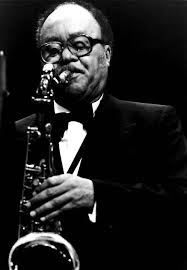 Saxophonist Ernie Wilkins became one of the most sought-after arrangers for big band during the 1950s and '60s, and he also wrote exquisitely for smaller horn section recording projects.
To validate Ernie's credentials, see who he grew up with. Ernie Wilkins and trumpeter Clark Terry were both born in St. Louis, Missouri. Clark Terry was 1 year and 7 months older than Ernie and played with the Vashon High School Swingsters. Ernie, playing tenor sax and clarinet, and his brother, trombonist Jimmy Wilkins, were with the rival high school band, The Sumner High School Swingsters. Clark Terry: "The band's leader was real friendly. Ernie Wilkins. Such a nice cat. His brother, Jimmy, too. Ernie wrote and arranged original jazz. It was so hip!"
Clark signed up for the Navy in August, 1942, and then recruited the Wilkins brothers. While in the military, Ernie also played with trumpeter/arranger/band leader Gerald Wilson, and in a band led by saxophonist Willie Smith. Back in civilian life, he played, arranged, and did his first recording with Earl Hines' last big band (1947-1948). In 1949, he recorded with George Hudson's band, and he did two sessions backing Dinah Washington with the Teddy Stewart Orchestra (1949, 1950).
In 1951, just before Clark left Basie to join Duke Ellington, Basie was excited about getting the big band together again. He told Clark he needed an alto saxophonist and trombonist, so Clark told him he had two new guys for him, Ernie and his brother Jimmy. Ernie had never played alto until he joined Basie! Clark also had told Basie that Ernie was an excellent composer/arranger. Lord discography shows Ernie and his brother in the Basie band for the first time on a WNEW radio broadcast (May 6, 1951). Marshall Royal on lead alto, and Wardell Gray and Paul Quinichette on tenor, with Charlie Fowlkes on baritone. By July, 1952, Basie was recording Ernie's arrangements, and Eddie "Lockjaw" Davis became the new tenor player in the band alongside Quinichette. Basie, in his autobiography says that Ernie was "a fantastic writer" and had "a lot do with how the band began to sound from then on."
Ernie left the band in 1955 to pursue a freelance career again. He became one of the most in-demand arrangers on the scene. His Far Out East, for a 1958 Sonny Rollins session, is his first original composition released on jazzleadsheets.com, but Ernie was already represented on our site, doing an arrangement of Ray Bryant's I Don't Care for Cannonball Adderley (1956). You'll be seeing a lot more of Ernie's writing in the future on jazzleadsheets.com.