Geru's Blues

– Gene Ammons

A swinging, funky blues head from Gene Ammons' last album. This one has it all—stop-time, drum breaks, a pedal point interlude, and several kinds of melodic embellishments.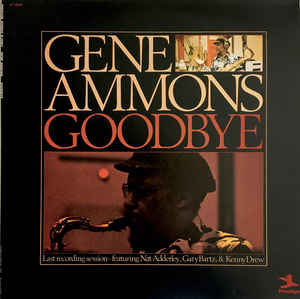 All selected items will be available for download after purchase.
Recording:

Gene Ammons - Goodbye

Recorded on:

March 19, 1974

Label:

Prestige (P 10093)

Concert Key:

B-flat

Vocal Range:

, to

Style:

Swing (medium)
Trumpet - Nat Adderley
Alto Sax - Gary Bartz
Tenor Sax - Gene Ammons
Piano - Kenny Drew
Bass - Sam Jones
Drums - Louis Hayes
Congas - Ray Barretto
Geru's Blues packs a lot of information into a swinging, funky blues head. The melody is relatively simple in the classic Gene Ammons style, but it's complemented with a variety of rhythm section activity. The head starts with a 2-feel, but switches in the fourth measure to a series of stop-time breaks with hits set up by drum fills. In the 9th and 10th measures, the rhythm section holds out a pedal F; the last two notes of the melody in the 10th measure set up a 2-measure drum fill.

There is an eight-measure interlude played before each solo; it has an F pedal point on beats 2 and 4, and the last two measures are a break for the next soloist. The coda tags the pedal "turnaround" of the head three times followed by the last two hits.

The first four measures of the melody contain three different kinds of embellishments. In the second measure, a quarter note E [natural] on the downbeat is filled in with grace notes F and E going to E♭ in the next beat. The second beat of the next measure has a 16th note triplet followed by an eighth note (E [natural], F, E, D♭). In the fourth measure, a similar four-note pattern appears on the third beat in even 16th notes (A♭, B♭, A♭, F). These embellishments are essential elements of the bluesy bebop/post-bop style exemplified by Ammons.

In the 3-horn arrangement heard on this recording, the horns are harmonized in the last five measures of the head and in the interlude. In these places the tenor sax has the melody on the bottom; trumpet and alto sax add harmony notes above. Our audio clip starts on the repeat of the melody and includes the Interlude.
Almost all of Gene Ammons' Prestige albums were recorded at Van Gelder Studio, in Hackensack before 1959 and Englewood Cliffs after that. Gene's last two albums, "
Goodbye
" and "
Brasswind
," were also issued on Prestige but recorded at other studios. This was because in early 1973 Rudy Van Gelder started recording exclusively for Creed Taylor's CTI label. Rudy's contract with CTI lasted until 1977, three years after Gene Ammons' death.
"Goodbye" was Gene Ammons' only recording with pianist
Kenny Drew
. Gene hadn't recorded with this kind of septet or sextet instrumentation, with three or four horns, since the '50s; most of his albums as the sole leader in the intervening years had one-horn lineups or a larger backing horn section. Conga drummer Ray Barretto had played on Gene's previous septet album, 1958's "Blue Gene," as well as several other smaller-group Ammons albums in the early '60s.
This is a second song of Gene's named for his friend Geraldine Marshall. The first one was
Ger-ru
.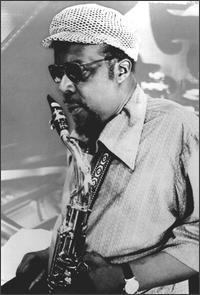 April 14, 1925 – July 23, 1974
Gene Ammons is the son of the great boogie-woogie pianist Albert Ammons. Born in Chicago, Gene studied music at Du Sable High School under Captain Walter Dyett. He left Chicago at 18 to tour with King Kolax. On September 5, 1944, at the age of 19, he made his first recording with Billy Eckstine and his Orchestra. The Eckstein band was truly legendary, with Dexter Gordon on tenor sax, Leo Parker on baritone, Dizzy Gillespie in the trumpet section, Art Blakey on drums, Tommy Potter on bass, Sarah Vaughan singing with the band, and Tadd Dameron as one of the arrangers. It was a hothouse of talent and creativity and an immense opportunity for the young Gene, whom Billy nicknamed "Jug" when the straw hats ordered for the band were too small for his head. Read more...