Don Patterson
July 22, 1936 – February 10, 1988
| | |
| --- | --- |
| Instrument | organ |
| Birthplace | Columbus, OH |
Available Leadsheets
Aries

- Don Patterson & Sonny Stitt

Swing (slow)

Up in Betty's Room

- Don Patterson & Billy James

Swing (medium up)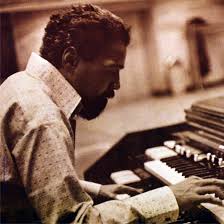 Don Patterson was born in Columbus, Ohio and began his musicianship on the piano. At the age of twenty, he heard Jimmy Smith and decided to take up organ. He made his debut as an organist in 1959. His first recordings were in 1962 with Sonny Stitt and Gene Ammons.
Don created a real bond with drummer Billy James and guitarist Paul Weeden, doing his first seven sessions with them from 1962 through Don's first date as a leader, for Cadet Records, on January 22, 1963 ("Goin' Down Home"). His sixth session, an Eddie "Lockjaw" Davis date, which also included bassist George Duvivier, was for the Prestige label. In 1964 Don started working for Prestige, first on a Sonny Stitt session, then doing his initial leader album for Prestige. Don would either lead or co-lead fifteen sessions for Prestige.
In 1972 he started recording for the Muse label, for whom he would go on to record four sessions. In his later years he worked with trombonist Al Grey, recording an Al Grey/Jimmy Forrest Quintet album in 1980. In the 1980s he moved to Philadelphia and made a small comeback, but his health deteriorated over the course of the decade. He recorded one more album ("Legacy" / John Simon Trio Featuring Don Patterson) before he died in 1988.