Philly Joe Jones
July 15, 1923 – August 30, 1985
| | |
| --- | --- |
| Instrument | drums |
| Birthplace | Philadelphia, PA |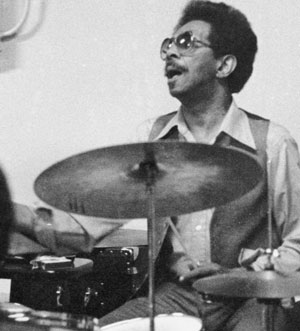 Philly Joe Jones was one of the most well-known drummers of his era. A natural comedian, he was a spellbinding storyteller, both in music and in words. Here's a famous example clipPJJ recorded by engineer Rudy Van Gelder before a session.
Born Joseph Rudolph Jones (July 15, 1923, in Philadelphia, PA), he dubbed himself "Philly Joe" to avoid confusion with the legendary drummer Jo Jones (also known as "Papa Jo" Jones). Unlike many jazz artists who started their careers by going on the road in their late teens, Philly Joe, at 18, joined the U.S. Army (1941) and remained in the Army until 1947. Soon after leaving the service, he moved to New York and joined Joe Morris's rhythm and blues band. His first recording (at age 25) was with the Morris band (September 19, 1948).
Looking at four of Joe's companions in that Morris band, it is obvious that these musicians had other musical goals in mind besides R&B: Johnny Griffin (tenor sax), Matthew Gee (trombone), Elmo Hope (piano) and Percy Heath (bass).

Philly Joe's first true jazz date (at age 29) was with Miles Davis (January 30, 1953). That session also featured Charlie Parker and Sonny Rollins, both on tenor saxes. From then, Philly Joe was off and running, reuniting with his Joe Morris rhythm section for further recording dates in 1953 with Lou Donaldson and Clifford Brown (June 9), then his first Tadd Dameron recording (June 11). On June 18, Elmo Hope used Philly Joe and Percy on his first record date as a leader.

In May, 1955, Philly Joe started another string of recording sessions: Ray Bryant (May 13, 16, June 1) and Miles Davis (June 7). In October he recorded with Art Farmer (21st), Howard McGhee (22nd), and more Miles Davis (26th). The Davis session was the first recording of Miles' legendary quintet for Columbia Records, featuring John Coltrane, Red Garland and Paul Chambers. On November 16, this same group started recording for Prestige Records. 1956 was a very productive and varied year for Philly Joe, recording on sessions for many different leaders including: Miles Davis (8), Paul Chambers (3), Serge Chaloff (2), Bennie Green, Elmo Hope, Red Garland, Sonny Rollins, Phil Woods, Jackie McLean, Kenny Drew, Phineas Newborn, Jr., J.R. Monterose, Lee Morgan, Tadd Dameron and others.

This is a brief summary of only the first two years in the recording career of truly one of the most creative and swinging drummers in jazz. From 1957 on, he was on many of the most significant jazz recordings ever made. You'll find Philly Joe on many of the recordings on the jazzleadsheets.com site.