Matthew Gee
November 25, 1925 – July 18, 1979
| | |
| --- | --- |
| Instrument | trombone |
| Birthplace | Houston, TX |
Available Leadsheets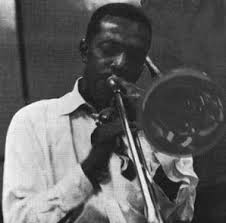 Trombonist Matthew Gee started his recording career with Erskine Hawkins in 1946 and 1947. In 1948 he joined the R&B band of Joe Morris, whose other members included Johnny Griffin and the rhythm section of Elmo Hope, Percy Heath, and Philly Joe Jones. Matthew did his first recording with Gene Ammons on October 4, 1949, and on November 11, 1949 his first recording with Dizzy Gillespie And His Orchestra.
In 1950 he recorded on a Sonny Stitt session, and in 1951, while continuing to record with Ammons, he recorded with Count Basie And His Orchestra, and with Coleman Hawkins. He played and recorded with Illinois Jacquet And His Orchestra from 1952 through 1954, while slipping in sessions in 1954 with Joe Newman and Lou Donaldson. He finally had a chance to record his own album as a leader. "Jazz By Gee," for Riverside in 1956.
He started recording with Duke Ellington in December, 1959, and in 1960 he also recorded with Johnny Griffin's Big Soul Band. He rejoined Johnny Griffin in 1963 to co-lead the album "Soul Groove" for Atlantic Records. On this album, Matthew recorded his composition Oh! Gee! which had already been recorded twice before: first by trumpeter Joe Newman, in 1961; and later that year by the Eddie "Lockjaw" Davis & Johnny Griffin Quintet (on "Blues Up And Down," Jazzland Records). "Lockjaw" kept it in his repertory and recorded it several more times over the years. Oh! Gee! also has a lyric, and since singer Eddie Jefferson recorded it in 1968, it's become popular with singers.