Joe's Debut

– Philly Joe Jones

A medium up swing with a dissonant but enticing edge.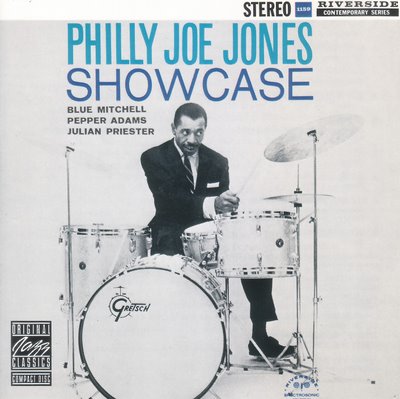 All selected items will be available for download after purchase.
Recording:

Philly Joe Jones - Showcase

Recorded on:

November 17, 1959

Label:

Riverside (RLP 12-313)

Concert Key:

F

Vocal Range:

, to

Style:

Swing (medium up)
Trombone - Julian Priester
Tenor Sax - Bill Barron
Piano - Dolo Coker
Bass - Jimmy Garrison
Drums - Philly Joe Jones
Our audio excerpt starts with the melody, but on the recording there's an eight-measure rhythm section intro which is indicated in the C treble clef lead sheet. The rhythm section alternates a measure of dominant back-beat pedal with a measure of rhythmic figures, clearly notated for all rhythm section players in the C treble clef lead sheet. Philly Joe has the two horns on the recording play the head in unison, except for an eight-measure interlude that sets up the first soloist break. There the two horns have separate parts (notated in all of the lead sheets). However, two horns are not required to play the arrangement effectively. The piano, for example, can easily also play the second answering harmony part in the interlude.

This is from Philly Joe Jones'
third recording
as a leader for Riverside Records, his first having been recorded late in the previous year ("Blues For Dracula" - September 17, 1958). Then he did "Drums Around The World" - May 4, 11, and 28, 1959.
It was clear from Philly Joe's first recording with Miles Davis in January 30, 1953, that a new drummer had arrived on the jazz scene who would be in constant demand. Examining his recorded output up to his first Riverside date as a leader is staggering. Just look at his recordings for other leaders during the time of his own three leader sessions for Riverside.
A.K. Salim
two Art Blakey recordings: "Drums Around The Corner" and "Holiday For Skins"
two Benny Golson recordings
Bill Evans
Johnny Pace
Jackie McLean
Chet Baker
another Bill Evans date
Kenny Dorham
Paul Chambers
Abbey Lincoln
Art Farmer
Wynton Kelly
Blue Mitchell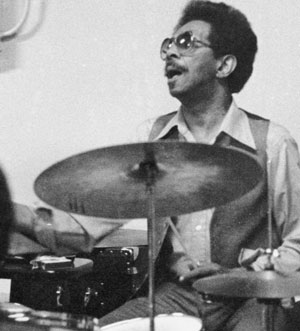 July 15, 1923 – August 30, 1985
Philly Joe Jones was one of the most well-known drummers of his era. A natural comedian, he was a spellbinding storyteller, both in music and in words. Here's a famous example clipPJJ recorded by engineer Rudy Van Gelder before a session. Read more...