Gwen

– Philly Joe Jones

Quite a rarity—a ballad written by drummer Philly Joe Jones, which he recorded on piano with drums overdubbed. It's a beautiful song, lyrical in a Tadd Dameron vein. Our piano melody part shows a few important voicings and fills.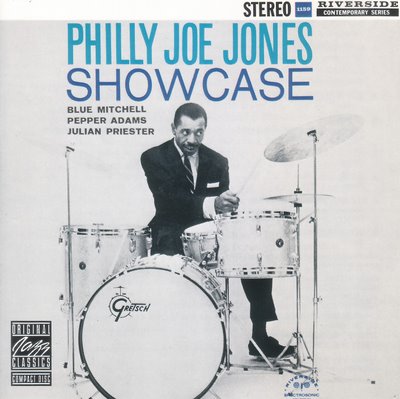 All selected items will be available for download after purchase.
Recording:

Philly Joe Jones - Showcase

Recorded on:

November 18, 1959

Label:

Riverside (RLP 12-313)

Concert Key:

E-flat

Vocal Range:

, to

Style:

Ballad
Piano, Drums - Philly Joe Jones
Bass - Jimmy Garrison
This song shows a rarely heard side of Philly Joe Jones as a composer—to say nothing of his first recording on piano.
Gwen
is the master drummer's contribution to the style of bebop ballad writing associated with
Tadd Dameron
. The melody combines a romantic lyricism with a few bebop-style syncopations; at times the melody lands on upper extensions of the chords in a particularly Dameronian way. The changes are quite logical and standard-like but with several interesting passing chords and side-slips.
There is an eight-measure intro which also appears as a coda. It starts with a sequence of II-V7s with a classic bebop melody phrase, leading to a
fermata
on B♭7 in the fourth measure. The second half of the intro has chords moving in whole steps: first alternating E♭maj7 and D♭maj7 and then descending minor 9th chords. The last II-V7 at the end of the intro is drawn out at the end of the coda, with another alternation of E♭maj7 and D♭maj7 to finish.
A piano melody part is available; click on Piano Corner for more details.
This song was the first recording of Philly Joe Jones playing piano; he also overdubbed on drums. Check out other songs from
this album
:
Bill Barron
's
Minor Mode
and
Interpretation
from this session, and
Julian Priester
's
Julia
and Philly Joe's
Joe's Delight
and
Joe's Debut
recorded a day earlier. Bassist Jimmy Garrison's first recording was on Philly Joe's debut as a leader, "Blues For Dracula" from 1958; Jimmy also played on one session for Philly Joe's "Drums Around The World" in May 1959.
Philly Joe was a frequent visitor to the 28th Street loft where jazzleadsheets.com started, during the time jazzleadsheets' founder,
Don Sickler
played in Joe's groups. He often stayed overnight on the rehearsal room couch when NY gigs were happening. One night, after "lights out," we heard piano playing in the rehearsal room. Don opened the door to find Joe playing the piano to relax.
A piano melody part is available. This single-staff part shows countermelodies and a few right-hand voicings that Philly Joe plays on the recording, primarily in the A sections. The form of the recording is slightly different from the lead sheet: after the out head, the alternating E♭6 and D♭6 from the last measure is vamped for four more measures before the intro reappears as a coda.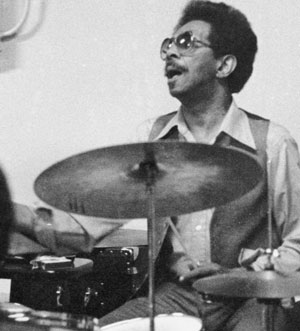 July 15, 1923 – August 30, 1985
Philly Joe Jones was one of the most well-known drummers of his era. A natural comedian, he was a spellbinding storyteller, both in music and in words. Here's a famous example clipPJJ recorded by engineer Rudy Van Gelder before a session. Read more...