Got To Take Another Chance

– Philly Joe Jones

An exhilarating twist on Take The A Train. Philly Joe Jones drum transcription available!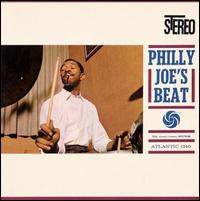 All selected items will be available for download after purchase.
Recording:

Philly Joe Jones - Philly Joe's Beat

Recorded on:

May 20, 1960

Label:

Atlantic (LP 1340)

Concert Key:

F

Vocal Range:

, to

Style:

Swing (medium up)
Cornet - Michael Downs
Tenor Sax - Bill Barron
Piano - Walter Davis, Jr.
Bass - Paul Chambers
Drums - Philly Joe Jones
Our audio excerpt starts right on the horn melody. If you're familiar with Philly Joe's drum soloing, you'll immediately hear some of his favorite stop-and-go rhythm patterns as he spins out his A section melody. In fact, on the recording Philly Joe plays the A section as an eight-measure solo intro before the horns come in. Once the horns take over the melody, Philly Joe concentrates on his slick accompaniment to the melody. The chord progression is based on Take The A Train and Exactly Like You. A lot of fun to play.

Got To Take Another Chance
is from Philly Joe's next album as a leader after his 1959 "
Showcase
" LP for Riverside. Joe started 1960 by recording a couple of multiple-drummer dates: "The Soul Of Jazz Percussion" (Warwick) and "Gretsch Drum Night At Birdland" (Roulette). Two days later he recorded a Wynton Kelly trio date for Vee Jay records (April 27), followed on May 20 with the "
Philly Joe's Beat
" recording. Before he went back to Blue Note to record another string of albums starting with Freddie Hubbard's "
Goin' Up
" LP (November 6, 1960), Philly Joe did another session for Atlantic as a leader on October 4, 1960, but it remains unissued. The eight tracks that were recorded that day are all clearly titled in discography listings. For us Philly Joe fans, wouldn't it be great to get that session released? Of course it would. Unfortunately, in February 1978, Atlantic Records had a fire in their Long Branch, New Jersey, non-air-conditioned storage facility which "destroyed virtually all of Atlantic's unreleased masters, alternate takes and sessions tapes by artists who had recorded for the label and its offshoots throughout its classic 1948-1969 first golden era."
A six-page in-depth drum transcription of everything Philly Joe Jones plays
drum
on his own composition.
-- eight-bar drum set-up
-- everything Philly Joe plays through the in head, with the melody shown above
-- first 8 bars of setup into Walter Davis Jr.'s piano solo
-- one chorus (32 bar) unaccompanied drum solo
-- everything Philly Joe plays on the out head, with melody shown above
The audio clip starts at his solo.
The recording, "
Philly Joe's Beat
," displays some of Philly Joe's finest work as a bandleader. This is the first transcription of Philly Joe Jones on jazzleadsheets.com where he is featured on his own composition. Many of the legendary drummers recorded often as sidemen, but when it was time to lead their own band in a recording date, they needed to somehow elevate or distinguish their playing. Not by overplaying or playing louder, but by playing like the man in charge. Pay close attention to how Philly Joe sets up the quintet throughout this song. His drum solo features some of his most characteristic stickings and phrases.
In a serendipitous coincidence, "Philly Joe's Beat" was recorded on
Victor Lewis
's (another master drummer) tenth birthday.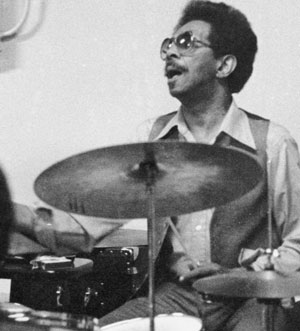 July 15, 1923 – August 30, 1985
Philly Joe Jones was one of the most well-known drummers of his era. A natural comedian, he was a spellbinding storyteller, both in music and in words. Here's a famous example clipPJJ recorded by engineer Rudy Van Gelder before a session. Read more...