Ka-Link

– Philly Joe Jones

A cheerful Latin piece with a strong rhythmic drive.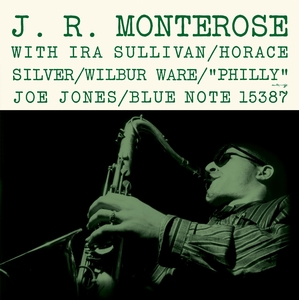 All selected items will be available for download after purchase.
Recording:

J.R. Monterose - J.R. Monterose

Recorded on:

October 21, 1956

Label:

Blue Note (BN 1536)

Concert Key:

G

Vocal Range:

, to

Style:

Latin/swing (medium)
Trumpet - Ira Sullivan
Tenor Sax - J.R. Monterose
Piano - Horace Silver
Bass - Wilbur Ware
Drums - Philly Joe Jones
This piece by Philly Joe Jones starts with a simple Latin melody that is punctuated by playful rhythmic patterns. This recording begins, as our audio excerpt does, with a drum introduction that sets up a Latin groove. The A section contrasts with a swing B section with smoother rhythms and a more lyrical melody. After an eight-measure section of exchanges between horns and drum fills, the Latin A section returns. A swing interlude with more drum exchanges separates the head from the solos, which are done over a swinging G blues. This recording features solos by everyone in the band except Philly Joe.
This also could work as a feature for just the drummer, as you can hear in Rachel Gould's recording of her lyric version entitled
Listen To Mister Jones
(in B-flat, with an accompaniment-only MP3).
"J.R. Monterose"
was recorded at Rudy Van Gelder's legendary
Hackensack Studio
.
Ka-Link
was recorded in 1956, another year of incredible Philly Joe Jones recordings. A month before our date (on September 20 and 26), Philly Joe, along with
Paul Chambers
, was recording in the
Kenny Drew
Trio for Prestige. On September 21, Philly Joe was on Paul Chambers' classic "Whims Of Chambers" date for Blue Note. On October 19, he was recording with Phineas Newborn for RCA. Two days later came the
Ka-Link
session
, and four days later, on October 26, Philly Joe returned to Rudy Van Gelder's parents' living room in Hackensack, this time to record the famous extended session that would complete Miles Davis's contract with Prestige Records ("Cookin'" - "Relaxin'" - "Workin'" - "Steamin'").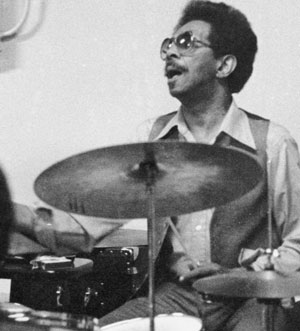 July 15, 1923 – August 30, 1985
Philly Joe Jones was one of the most well-known drummers of his era. A natural comedian, he was a spellbinding storyteller, both in music and in words. Here's a famous example clipPJJ recorded by engineer Rudy Van Gelder before a session. Read more...