Symptoms

– Curtis Fuller

This light swinger with a 32-measure form is classic Curtis Fuller—and classic hard bop. The full quintet arrangement is available.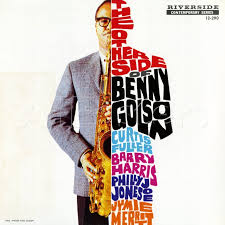 All selected items will be available for download after purchase.
Recording:

Benny Golson - The Other Side Of Benny Golson

Recorded on:

November 12, 1958

Label:

Riverside (RLP 12-290)

Concert Key:

E-flat

Vocal Range:

, to

Style:

Swing (medium)
Trombone - Curtis Fuller
Tenor Sax - Benny Golson
Piano - Barry Harris
Bass - Jymie Merritt
Drums - Philly Joe Jones
A simple swinger with a 32-measure form. The changes are similar to Charlie Parker's
My Little Suede Shoes
(or
Elmo Hope
's
Bellarosa
), but starting on the relative minor chord, in this case C minor. The two-horn arrangement is particularly interesting because the voices cross over and weave around each other. In the fifth measure of the A section, the harmony part (trombone on the recording) is simply an embellishment of the melody, adding notes in between (above) but going to unison on the two melody notes. For an interesting transformation of the harmonies, try displacing one of the parts by an octave; this will disentangle the harmony, with one part consistently above the other. (Another song available on jazzleadsheets.com with this property is
Al Cohn
's
The Note
.)
The lead sheet represents the first part (the melody); the second part is also available in all transpositions. The Concert Condensed Score would also be the preferable part for piano, bass and drums when playing the quintet arrangement. Benny Golson (tenor sax) played the melody (which is our B-flat Tenor Sax leadsheet. Curtis Fuller (trombone) played our Trombone 2nd part.
"The Other Side" was the first quintet album with a Golson/Fuller front line. This lineup is a classic example of the compatibility of the Detroit and Philadelphia scenes at this time, with Curtis and
Barry Harris
making up the Motor City contingent. The next two Fuller/Golson quintet albums were Curtis' "Blues-ette" from May 1959 and Benny's "
Gone with Golson
" from the following month; the latter includes
Ray Bryant
's
Staccato Swing
and Fuller's
A Bit Of Heaven
.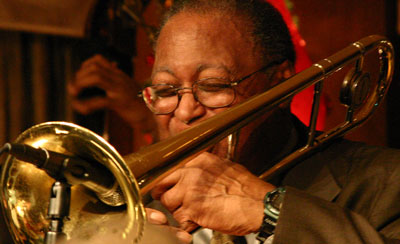 December 15, 1934 – May 8, 2021
After J.J. Johnson, Curtis Fuller is likely the most influential modern jazz trombonist. Born in Detroit and raised in an orphanage, he was a relatively late starter: he did not take up the trombone until age 16. But it was not long until he was cutting his teeth with saxophonists in the area like Pepper Adams and Yusef Lateef and guitarist Kenny Burrell, eventually building up his skills enough to move to New York in 1957. Curtis' first recording session, however, was in the previous year, with Pepper and also Detroit's Paul Chambers. This was also Curtis' first session with John Coltrane and Philly Joe Jones (check out High Step). Read more...