Bit Of Heaven

– Curtis Fuller

A bit of fun medium swing with a simple melody and changes that just feel right. A two-horn arrangement is available.
All selected items will be available for download after purchase.
Recording:

Curtis Fuller - Sliding Easy

Recorded on:

March 9, 1959

Label:

United Artists (UAL 4041)

Concert Key:

G

Vocal Range:

, to

Style:

Swing (medium)
Trumpet - Lee Morgan
Trombone - Curtis Fuller
Tenor Sax - Hank Mobley
Piano - Tommy Flanagan
Bass - Paul Chambers
Drums - Elvin Jones
The first recorded version of Bit Of Heaven has an intricate three-horn arrangement by Benny Golson, with an introduction not included in our audio excerpt. In this version, the trumpet has the melody everywhere that the tenor sax does in the later, two-horn version (from "Gone With Golson" see second album cover); several of the countermelodies are the same in the two arrangements. In this arrangement, each horn solo has a different set of background figures throughout. After the solos, there is a shout chorus that begins softly, with the trumpet and trombone "in stand" (with the bell of the horn close to the music stand), a sound also heard in some of the backgrounds. The out head is arranged the same as the first time through the in head, with a different ending also featuring the trumpet "in stand."
The personnel on this album is almost too good to be true! Interestingly, the one player here who had not yet recorded alongside tenor sax giant John Coltrane by this time was drummer Elvin Jones, who joined Trane the following year. Pianist Tommy Flanagan and bassist
Paul Chambers
would go on to record on Coltrane's classic "Giant Steps" album two months after this session, which was in turn only one week after the first session for Miles Davis' "Kind of Blue," again with Chambers. Though Fuller and trumpeter Lee Morgan recorded together a lot, the only other recording featuring the front line of Fuller, Morgan and
Mobley
was on the latter's album "
A Caddy for Daddy
" (see
Third Time Around
); the same horn section plus baritone saxophonist Billy Root had appeared on a live Mobley album in 1958. Flanagan and Jones had recorded together extensively under
J. J. Johnson
's leadership in 1956 and '57, with Wilbur Little on bass and
Bobby Jaspar
on tenor sax.
Though Benny Golson was the arranger for most of the "Sliding Easy" album, two of the songs were arranged by
Gigi Gryce
.
All selected items will be available for download after purchase.
Recording:

Benny Golson - Gone With Golson

Recorded on:

June 20, 1959

Label:

New Jazz (NJLP 8235)

Concert Key:

G

Vocal Range:

, to

Style:

Swing (medium)
Trombone - Curtis Fuller
Tenor Sax - Benny Golson
Piano - Ray Bryant
Bass - Tommy Bryant
Drums - Al Harewood
This medium tempo swinger works great featuring any instrument playing the melody. It begins in the relative minor key, E minor, but modulates to G major for the last four measures. The combination of a 16-measure form, a simple, catchy melody, and an efficient chord progression with a lot of III-VI-II-Vs and stepwise root movement makes for a strong, streamlined song, perfect for performance with any instrumentation.

About this recording:
The two-horn arrangement on this recording is different for the two times through the in head. Both times are mostly counterpoint; the tenor sax has the melody the first time through (joined in unison by the trombone in measures 8 through 10), while the trombone takes the melody for the first half of A2. The countermelodies are also different. The out head is only once through, the same as A2.
This is the second recording of Bit of Heaven. The first was three months earlier, for Curtis Fuller's United Artists album "Sliding Easy" featuring a sextet version arranged by Golson. "Gone with Golson" was the third of ten quintet albums featuring the front line of Fuller and Golson; the first two were Golson's "The Other Side of Benny Golson" and Fuller's "Blues-ette". Later in 1959 the two were again the front line of a quintet for Golson's albums "Groovin' with Golson" and "Gettin' With It".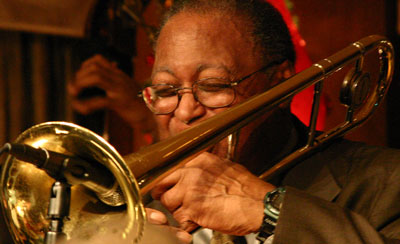 December 15, 1934 – May 8, 2021
After J.J. Johnson, Curtis Fuller is likely the most influential modern jazz trombonist. Born in Detroit and raised in an orphanage, he was a relatively late starter: he did not take up the trombone until age 16. But it was not long until he was cutting his teeth with saxophonists in the area like Pepper Adams and Yusef Lateef and guitarist Kenny Burrell, eventually building up his skills enough to move to New York in 1957. Curtis' first recording session, however, was in the previous year, with Pepper and also Detroit's Paul Chambers. This was also Curtis' first session with John Coltrane and Philly Joe Jones (check out High Step). Read more...