Bootin' It

– Sonny Clark

If this head doesn't convince you of Sonny Clark's mastery of bebop, nothing will, It's a classic bop/hardbop chart that flies over the blues changes. Solo piano arrangement available.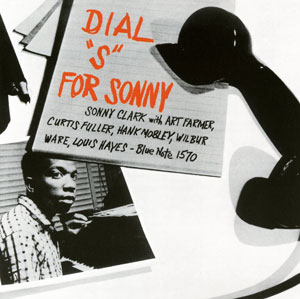 All selected items will be available for download after purchase.
Recording:

Sonny Clark - Dial "S" For Sonny

Recorded on:

July 21, 1957

Label:

Blue Note (BLP 1570)

Concert Key:

B-flat

Vocal Range:

, to

Style:

Swing (uptempo)
Trumpet - Art Farmer
Trombone - Curtis Fuller
Tenor Sax - Hank Mobley
Piano - Sonny Clark
Bass - Wilbur Ware
Drums - Louis Hayes
Don Sickler says, "As you can hear from our audio excerpt, learning this blues head is a great way to get your bebop-into-hardbop language together. I've always felt this head (intro, melody and ending) was also great for understanding how eighth notes can fly over the blues. For me it's a great bop/hardbop etude full of all those notes that you hear in the solos of the masters of that era. Learning how to articulate the head to make it really cook is a great leaning experience for anyone."


"Dial 'S' For Sonny"
was recorded at Rudy Van Gelder's legendary
Hackensack Studio
.
Sonny Clark started his recording career in California, where he lived from 1951 to 1957. He arrived in NYC in April of 1957 and in June did three days of recording with Sonny Rollins. Four days after his last Rollins session he played in his first Blue Note session, as a sideman on a
Hank Mobley
date. A little less than a month later, he recorded his own Blue Note date, "Dial S For Sonny" which was his first official album as a leader. "
Dial S For Sonny
" features a horn section of Hank Mobley,
Art Farmer
and
Curtis Fuller
. Two weeks later, Curtis Fuller invited Sonny to join him for his Sunday Blue Note session in engineer Rudy Van Gelder's Hackensack living room. Sonny spent two more consecutive Sundays at Rudy's playing on different Blue Note dates. He took one Sunday off before returning the following Sunday for his second Blue Note date as a leader, "
Sonny's Crib
," this time with John Coltrane in the front line along with Curtis Fuller and Donald Byrd.
Solo Piano Arrangement:
Pianist
Cecilia Coleman
has written an easy solo piano arrangement that can help you get into the phrasing for this composition.
Also, check out pianist Ben Rosenblum's tutorials on using Audacity and GarageBand to play along with Sonny Clark at slower speeds and at full speed. Both videos are in the video box, above.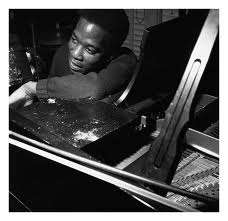 July 21, 1931 – January 13, 1963
A remarkable composer and pianist whose special touch and articulation makes him instantly recognizable at the piano, Sonny (Conrad Yeatis) Clark recorded so much on the Blue Note label that he was practically their in-house pianist. This hard-bop mainstay was particularly noteworthy for his virtuosic right hand lines. Read more...