Melba Liston
January 31, 1926 – April 23, 1999
| | |
| --- | --- |
| Instrument | trombone |
| Birthplace | Kansas City, MO |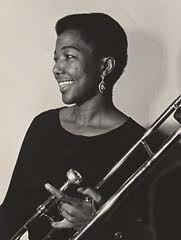 A prodigious musical talent, Melba Liston learned piano at age six in her hometown of Kansas City, Missouri. By eight, she had already taken up trombone and was talented enough at it to play solos on the local radio. When her family moved cross-country to Los Angeles, she began studying with Alma Hightower and playing in local youth bands. Melba soon outgrew children's music programs; at the age of 16, she parted ways with her musical mentor and joined the musicians' union to become a professional. Though she was young, she quickly secured a regular gig at the Los Angeles Lincoln Theater, an opportunity that allowed her to begin composing and arranging for some of the local talent.
In 1943, Melba joined Gerald Wilson's big band, a major turning point in her career. Her tours with Gerald brought her to New York, where the band replaced Duke Ellington in residency at the Apollo Theatre. She settled in NY and developed a career in her own right after the group disbanded in 1948; following her tenure with Mr. Wilson, she recorded with a small group led by Dexter Gordon, which included the composition Mischievous Lady, dedicated to Melba. She then went on to join Dizzy Gillespie's big band along with Gerald, John Coltrane, Paul Gonsalves and John Lewis. Just one year later, in 1949, Dizzy disbanded the group.
Next, Melba got the chance of a lifetime: to back Billie Holliday on a tour of the South. The experience was not all pleasant—the pre-Civil Rights era South was not ready for Billie's tour, and Melba reported that "The farther we got, the smaller the audience became and by the time we reached South Carolina there was just nobody." She was so disillusioned by the experience, and by the treatment she received from male musicians, that she gave up the trombone entirely, taking a clerical job and supplementing her income as an extra in Hollywood with appearances in The Prodigal (1955) and The Ten Commandments (1956).
Melba never gave up composing and arranging, thankfully, and her break from the trombone was not permanent. In 1956, the State Department invited Dizzy Gillespie to form a band to tour the Middle East and Asia, and Melba was one of his first picks. This time, the group played several of Melba's arrangements, considered to be some of the best of her writing —Annie's Dance, My Reverie, Stella By Starlight, and The Gypsy, all of which were recorded. After that, she began working with fellow Gillespie alum Quincy Jones and his orchestra as both a player and a writer until 1961, including a tour of Europe. During this time, Melba also recorded her only album as a leader, 1958's "Melba Liston and Her 'Bones."
Throughout the 1960s, Melba worked as a freelance writer and arranger in New York. She became the in-house arranger and conductor for the Riverside label, which led her to score the music for albums by Milt Jackson, Randy Weston, Gloria Lynne and Johnny Griffin, as well as arrange albums for Marvin Gaye, Bill Eckstine, and The Supremes. Melba had her most important collaboration: her work with Randy Weston. This long-term musical partnership began in 1959 and continued through 1998 with on-and-off arranging collaborations, yielding ten albums. Melba helped shape and embellish many of Randy's compositions and contributed greatly to his oeuvre. During this time, she also worked as an arranger for Motown and Stax Records, co-led a band with Clark Terry, and wrote for Duke Ellington, Tony Bennett and Abbey Lincoln. In 1973, Melba moved to Jamaica to teach for six years; upon returning, she formed an all-women's septet titled Melba Liston And Company.
Although a stroke in 1985 confined Melba to a wheelchair, she continued to compose and arrange, even learning computer music notation, until her death in 1999.