Walter Bolden
December 17, 1925 – February 7, 2002
| | |
| --- | --- |
| Instrument | drums |
| Birthplace | Hartford, CT |
Available Leadsheets
Ittapnna

- Walter Bolden

Swing (medium up)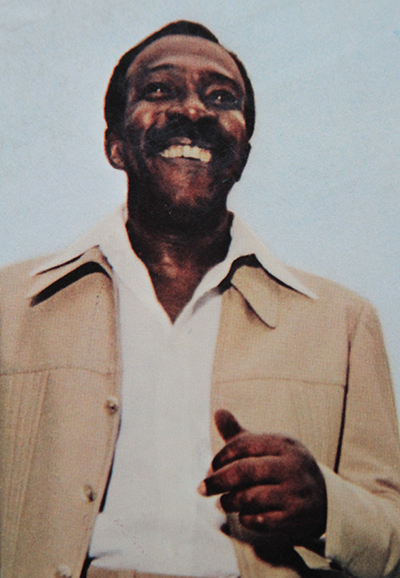 Drummer Walter Bolden went to the Hartt School Of Music in Hartford, Connecticut, from 1945 to 1947, simultaneously playing with saxophonist Gigi Gryce from 1945 through 1948. He worked in pianist Horace Silver's Trio from 1947 to 1951.
In 1950, when Walter was 24 years old, he was playing at the Sundown Club in Hartford with Silver's trio when Stan Getz came through town. Getz liked the group so much he took them on the road, launching both Walter's and Horace's careers. Both recorded with Getz on December 10, 1950, and January 23, 1951, for the Roost label.
In September 21, 1951, Walter recorded with Gerry Mulligan for the Prestige label. Walter, Gigi and Horace were all together again for a Howard McGhee session for Blue Note Records on May 20, 1953, where they also recorded Walter's own original, Ittapnna.
Later that year Walt can be heard on recordings with accordionist Mat Mathews and a live broadcast from Birdland with the Allen Eager/Howard McGhee quintet. In 1954, he recorded on a Henri Renaud date which also featured J.J. Johnson, Al Cohn and Gigi (this time on bari sax). In 1958, Walt recorded with Tony Scott in a group that also featured Coleman Hawkins, pianist Tommy Flanagan and trombonist Jimmy Knepper.
In 1959, Walt recorded with Jon Hendricks, then Lambert,Hendricks & Ross, which got him in the recording studio with the three Montgomery brothers as well as the two Adderley brothers, among others. In 1960, he recorded with George Shearing as well as another session with Howard McGhee ("Dusty Blue" Bethlehem Records).
When the music scene shifted to rock & roll in the '60s Walter essentially went into musical semi-retirement, doing only occasional session dates. He returned to music in 1973, when he was chosen Music Director and Co-ordinator of the Arts for Project Create in Harlem. This took up the majority of his time until 1976. In 1976 he recorded again with Howard McGhee as well as Frank Strozier. In 1977 he did his own album for Nemperor Records and continued recording through the 1980s.