Ittapnna

– Walter Bolden

This medium up swing was inspired by the kind of melody licks Howard McGhee enjoyed playing.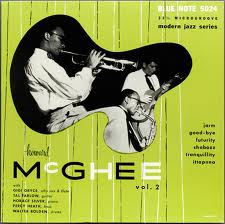 All selected items will be available for download after purchase.
Recording:

Howard McGhee - Howard McGhee Volume 2

Recorded on:

May 10, 1953

Label:

Blue Note (BLP 5024)

Concert Key:

F

Vocal Range:

, to

Style:

Swing (medium up)
Trumpet - Howard McGhee
Alto Sax - Gigi Gryce
Guitar - Tal Farlow
Piano - Horace Silver
Bass - Percy Heath
Drums - Walter Bolden
Don Sickler: "The audio clip starts with Walter's written introduction, in which, as you will hear, he bounces the melody between trumpet, alto sax and guitar. Exactly what happens on the recording is preserved in all lead sheets, but you'll see that a single performer can handle the melody in the intro if desired. ABAC is the form of melody after the intro.

"As Walter knew, if you wanted the leader to record your composition, it'd better be something he'd like to play. Howard McGhee was a fiery trumpet player. Melody licks like you hear in the B section of the audio excerpt are exactly what interested him."

The introduction is also used as the closing coda, as you'll see indicated in the lead sheets.

Walter Bolden started his recording career late in 1950 into 1951 with Stan Getz's quartet, along with his hometown pianist and good friend Horace Silver on piano. Walter had been playing with Horace since 1947, and with
Gigi Gryce
(who was also from Hartford, Connecticut), since 1945. With Howard McGee, Walter can also be heard captured on a live Birdland broadcast later in 1953, as well as two additional Howard McGhee recordings (1960/1976).
This session with Howard McGhee was Tal's second Blue Note sideman date; the first was four months earlier on a Gil Melle session at Rudy Van Gelder's Hackensack studio. Both of these led to Tal's first leader session (also for Blue Note) a little less than a year later.
Ittapnna
is Walter's first recorded composition. As Horace tells in his autobiography,
Let's Get to the Nitty Gritty
, "We got in a kick of calling each other by our names spelled backward. Walter Bolden on drums was Retlaw Nedlob. . . . I was Ecaroh Revlis." Ann Patti must have been around the musicians at that time, from the song title.
In later years, Walter wrote quite a few original compositions, including
Mr. A.T. Revisited
, dedicated to drummer Art Taylor.
Our C treble clef lead provides guitarists with the essentials for replicating
Tal Farlow
's role on the original recording. Since we've written the notes in their sounding register, guitarists will have to play the C in measure five of the intro (which later becomes the Coda) an octave higher in order to get the desired unison sound out of the ensemble. For the melody at A, the guitar is in octaves with the horns, so the part as written works perfect.
Composer and drummer Walter Bolden wrote a wildly fast bebop part to conclude the B section—the kind of thing leader
Howard McGhee
loved to dazzle people with. Tal sits out when this melody comes around, but he makes up for it with a tasteful solo chorus before the out head.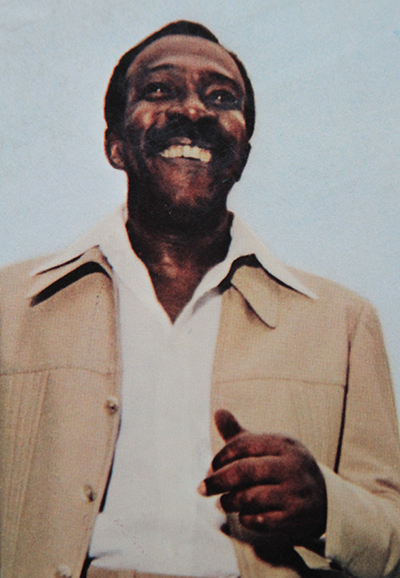 December 17, 1925 – February 7, 2002
Drummer Walter Bolden went to the Hartt School Of Music in Hartford, Connecticut, from 1945 to 1947, simultaneously playing with saxophonist Gigi Gryce from 1945 through 1948. He worked in pianist Horace Silver's Trio from 1947 to 1951. Read more...