JAZZ PIANIST, COMPOSER AND ARRANGER ELMO HOPE
HONORED IN SOUTH BRONX STREET CO-NAMING CEREMONY
New York, NY
Update: see a short movie about the naming of ELMO HOPE WAY. 
Elmo Hope, one of the forerunners of the Be-Bop style of Jazz, will be honored with a sign unveiling ceremony on Saturday, September 10, 2016 at 11 :00 am, when Lyman Place, Bronx, New York, will be co-named Elmo Hope Way - Jazz Pioneer. The sign unveiling will be on Lyman Place between Freeman Street and East 169th Street/Rev. James Polite Avenue. Immediately following, the Bronx Music Heritage Center, founded by Bobby Sanabria and Elena Martinez, will host a reception. The Jazz Foundation of New York is sponsoring the musical performance at BMHC by jazz pianist and educator, Bertha Hope, who will perform Elmo's compositions with her band, Nu-Trio.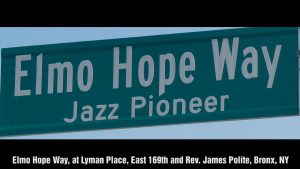 Elmo Hope was born on June 27, 1923 and named "St. Elmo," after the patron saint of sailors. He was the first child born to Ida Gertrude and Simeon Hope, West Indian immigrants who settled at 1358 Lyman Place to raise him, together with his six brothers and two sisters. As a youth Elmo won many piano competitions, including prizes at Carnegie Hall recitals. He began writing jazz compositions at a young age and practiced incessantly with his childhood friends Bud Powell and Thelonious Monk.
Elmo traveled throughout the United States and Canada playing with territory bands. In 1953, Lou Donaldson invited him to record with Clifford Brown, Elmo's first recording for the Blue Note label. Elmo became a member of the Chet Baker Ensemble and moved to California, where he enjoyed many wonderful experiences with local musicians Harold Land and Curtis Counce. Throughout this period Elmo wrote exemplary compositions that endure to this day and are included in several university curricula across the country and in Europe.
Elmo met his wife-to-be, Bertha Rosemond - a pianist of some standing in her own right - at a club in Los Angeles one evening. A few years later they married and had three children, Monica, Kevin and Daryl. Once back in New York, they settled again on Lyman Place and Elmo reconnected with band mates Frank Foster and Jimmy Heath, as well as Blue Mitchell. Landed a wide array of performing and recording dates with musicians such as Charlie Parker, Jackie McLean, Miles Davis, Dexter Gordon and Jimmy Cobb among many others.
While Elmo's untimely death from a heart attack on May 19, 1967, left a great void in the heart of his family and the jazz community, his contributions as composer, leader, arranger and sideman on more than 70 albums is significant. A great deal of his music as bandleader is available on Amazon.com and iTunes and Elmo's compositions are available as lead sheets at jazzleadsheets.com, with Second Floor Music's combo arrangements at http://www.musicdispatch.com. Bertha Hope's compositions are also on jazzleadsheets.com.