Bass-ment

– Kenny Drew, Sr.

A high-energy, funky piece that makes a great feature for the bass. Bass part also available.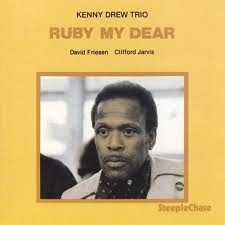 All selected items will be available for download after purchase.
Recording:

Kenny Drew - Ruby, My Dear

Recorded on:

August 23, 1977

Label:

SteepleChase (SCS 1129)

Concert Key:

F

Vocal Range:

, to

Style:

Swing (medium up)
Piano - Kenny Drew
Bass - David Friesen
Drums - Clifford Jarvis
Our audio excerpt starts with the melody, which is in an ABCBC form. Section A is two six-measure phrases of tutti piano and bass, with piano fills at the end of each phrase. Section BC is a repeating 16-measure section that features the bass playing the melody while the piano comps. This is also the solo section. In the last solo chorus, the piano plays the melody at C, leading into the tutti that sets up the Dal Segno back to A. There also is a tutti repeating eight-measure intro, which is used to return to the Coda.


Six months earlier, Kenny recorded a quintet album:
Lite Flite
featuring the title tune
Lite-Flite
and
Only You
(both available here).
This is Kenny Drew's only recording with bassist David Friesen or drummer Clifford Jarvis. The album "Ruby My Dear" was recorded in Copenhagen after Drew's move to Europe and reflects the change in his style that accompanied the transition.
Bass Melodies
(David Friesen, bassist)
Bass-ment
is a fun tune that combines bop, blues, and gospel elements into one distinct song. The A section will enable the bassist to get some very bass friendly bebop melodies ((in terms of playability) under their fingers. Also, since the piano plays the line
tutti
, this will be a prime resource to help learn the art of blending and phrasing with other band members, something that's most often relegated to the horn players.
In addition, the B section melody is a fun, blues-drenched line that can be taken and used in solos. Lastly, the C section consists mostly of a repeating two bar riff, so the player can use this as a platform for variations in their dynamics, phrasing, and overall articulation.
Bass-ment
will allow the bassist to be featured melodically in a postive manner and will provide a number of usable lines for further improvisations, both within this song and elsewhere.
You could slow this one down using the Audacity software (for both PCs and Macs) when trying to play along for the first time. Gradually build up to the pace that David Friesen takes it. We hear Friesen having a blast bending notes and putting his spin on the head, really thumping out the walking line behind Drew's solo, and then taking his own amazing solo. The bass solo on this track is absolutely fantastic with the sixth chorus consisting almost entirely of chords and doublestops!
There are tips on our YouTube channel for slowing down a track so you can practice along with it:
Slowing down music so you can play along
.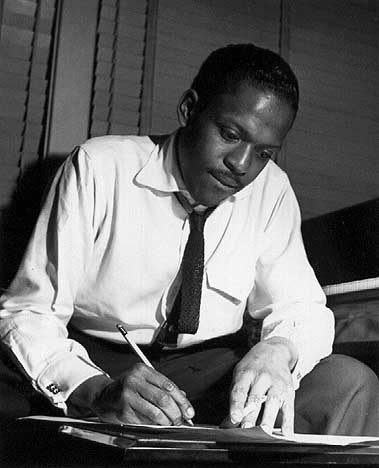 August 28, 1928 – August 4, 1993
Kenny Drew was born in New York City. He studied classical piano but soon turned to jazz. His recording career started in 1950 at age 22, first with Howard McGhee for Blue Note, then Sonny Stitt for Prestige. These two 1950 recordings plus a surviving radio broadcast with Charlie Parker (December 8, 1950) put him in the company of jazz greats J.J Johnson, Max Roach and Art Blakey. Read more...