Bill Hardman
April 6, 1933 – December 6, 1990
| | |
| --- | --- |
| Instrument | trumpet |
| Birthplace | Cleveland, OH |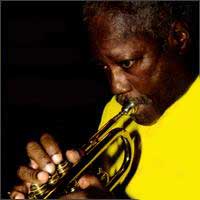 While still in high school in his home town of Cleveland, Ohio, Bill got to play with Tadd Dameron. After graduation, he toured with Tiny Bradshaw (1953-1955) and recorded R&B sessions with him in each of these years. Hardman recorded his first jazz session with Jackie McLean on August 31, 1956 ("Jackie's Pal - Jackie McLean Quintet Introducing Bill Hardman" for Prestige Records). Both musicians joined Art Blakey And The Jazz Messengers, first doing a "Stars of Jazz" TV show in Los Angeles, October 30, 1956, then recording the album "Hard Bop" for Columbia Records on December 12, 1956.
"Hard Bop" featured Bill's first recorded original Cranky Spanky. They following day, they recorded Blakey's "Drum Suite" album; the next day after that Bill and Jackie were in the studio again, this time for Jackie's session ("McLean's Scene" for New Jazz). Bill continued recording and working with Blakey's Jazz Messengers into 1958; he returned to the Messengers later (1966-1969), and again in 1970. That same year (1970) he formed his own group, the Brass Company.
During his first tenure with the Messengers, in 1957 Bill also recorded more with Jackie McLean, Mal Waldron, Hank Mobley and Charles Mingus. In 1960 he started recording with Lou Donaldson, a playing and recording relationship that started in 1959 and continued on and off through 1966. Less than two weeks after recording a session with Dave Bailey, Bill recorded his first session as a leader (October 6, 1961, "Bill Hardman Quintet" for Savoy Records). Bill continued playing and recording throughout the next two decades, eventually moving to Paris, France, in 1988.