Geni

– Bill Hardman

Originally recorded with a large brass ensemble arrangement, this tender ballad works just as well in a small group setting.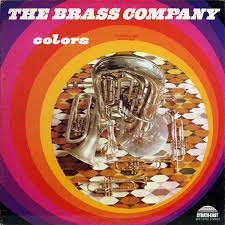 All selected items will be available for download after purchase.
Recording:

The Brass Company - Colors

Recorded on:

June 4 & July 3, 1974

Label:

Strata-East (SES 1975)

Concert Key:

F

Vocal Range:

, to

Style:

Ballad
Trumpet - Bill Hardman, Lonnie Hillyer, Eddie Preston, Charles Tolliver
Flugelhorn - Cliff Lee, Kamal Abdul
Trombone - Charles Stephens
Euphonium - Kiane Zawadi
Tuba - Bob Stewart
Bass - Bill Lee
Drums, Percussion - Billy Higgins, Gerald "Sonny" Brown
A tender, passionate ballad. The melody has a standard-like quality, very lyrical and logically constructed. The melody of the bridge has a similar direction to that of the A section, but in a higher register while still in the same key. The changes are colorful, with a lot of passing chords and smooth voice leading, though largely diatonic to F major. D minor is visited in the sixth measure of both the A and B sections. The last measure of the first A section includes a brief resolution to G♭ major before returning to F. At the end of the second A section, D♭maj7 is inserted between C7 and the tonic F chord; this also appears in the C section. In the last measure of the bridge, a rising series of chords in eighth notes leads to Dm7 at the beginning of the C section. This section has the same melody as the second A but is harmonized differently, with simpler changes—mostly two chords per measure rather than three or four.

On the recording, there is an intro which reappears as an ending, with a D minor tonality; this is not particularly related to the rest of the song and is not included in our lead sheets.
Geni
is the only Bill Hardman song on this album, which contains mostly compositions by bassist Bill Lee. Other songs on "
Colors
" add Clifford Jordan on tenor sax and Stanley Cowell on piano. At this time, Bill Hardman had rejoined Art Blakey's Jazz Messengers. The only other recording of Hardman in 1974 is a performance in Cedar Walton's quintet for the Left Bank Jazz Society in Baltimore. "Colors" is also the last recording of trumpeter
Lonnie Hillyer
.
Strata-East was founded in 1971 by Charles Tolliver and Stanley Cowell with the release of their first recording "Music Inc." According to Wikipedia, the label released over 50 albums in the 1970s. Many of the label's releases are now hailed as prime examples of 1970s Post-Bop, Spiritual Jazz, and Afro-Jazz.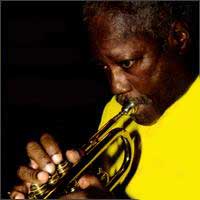 April 6, 1933 – December 6, 1990
While still in high school in his home town of Cleveland, Ohio, Bill got to play with Tadd Dameron. After graduation, he toured with Tiny Bradshaw (1953-1955) and recorded R&B sessions with him in each of these years. Hardman recorded his first jazz session with Jackie McLean on August 31, 1956 ("Jackie's Pal - Jackie McLean Quintet Introducing Bill Hardman" for Prestige Records). Both musicians joined Art Blakey And The Jazz Messengers, first doing a "Stars of Jazz" TV show in Los Angeles, October 30, 1956, then recording the album "Hard Bop" for Columbia Records on December 12, 1956. Read more...