Two Sides Of A Penny

– Cecilia Coleman

A beautiful melodic medium-tempo tune with very intricate rhythms and harmonies.
All selected items will be available for download after purchase.
Recording:

Cecilia Coleman - Home

Recorded on:

July 26, 1995

Label:

Resurgent Music (RM 109)

Concert Key:

D minor

Vocal Range:

, to

Style:

Swing (medium)
Trumpet - Steve Huffsteter
Tenor Sax - Andy Suzuki
Piano - Cecilia Coleman
Bass - Dean Taba
Drums - Kendall Kay
Percussion - Dee Huffsteter
This swing has a lyrical, tuneful melody that recalls the classics of Duke Ellington, but the harmonic progression is completely modern. The combination of new and old makes this piece particularly appealing. Our audio excerpt starts at the beginning of the track, and the tuneful melody over an elongated rhythm section 1-feel constantly grows over sixteen measures. It then repeats but develops into a an additional eight-measure ending section.
Don Sickler writes, "Some may hear this piece as a 40-measure AAB composition. I hear it as an ABABC composition. I love the way it starts in minor and ends major. It's constantly refreshing itself. They recording is with a two-horn quintet, so first and second parts are available."
Cecilia Coleman's
So You Say
is also from this album and is available, along with a recording and video of Cecilia playing a piano/bass duo with young bassist
Daryl Johns
.
Don continues: "This composition comes from what I call Cecilia's California period, before she moved to NYC. Although I think she now feels far removed from that setting musically, it was her writing from that period that started my interest in her as a composer. As you hear in this composition, she has a beautiful command of both melody and harmony.
"Cecilia's writing attention has now shifted to her big band. Her second big band CD,
Who Am I?
, is already out. Check out the title track from her first, '
Oh Boy!
.'
"I'm hoping when she sees me digging out some of these gems from her past, she'll find time to get back to some more small group writing. Cecilia is also a marvelous pianist that I've been honored to be able to play and record with in her New York period. You'll find her delightful playing on many of the titles in our
Singers' Corner
."
All selected items will be available for download after purchase.
Recording:

Cecilia Coleman - Cecilia Coleman - Daryl Johns Duo

Recorded on:

June 30, 2012

Label:

jazzleadsheets.com (JLS 1015)

Concert Key:

D minor

Vocal Range:

, to

Style:

Swing (medium)
Piano - Ceclila Coleman
Bass - Daryl Johns
Cecilia's composition, first recorded in 1995 by her quintet, gets an intense workout in this piano/bass duo version. In this Don Sickler arrangement, the bass begins the melody, with the piano comping. The bass fills in with the roots of some of the chords where there are longer notes in the melody, such as in the fourth and fifth measures. The piano picks up the melody at the end of the seventh measure and continues it (with voicings) through the B section. The C section melody is harmonized with the piano and bass (unison in the third measure); the last eight measures have a repeated bass figure and written piano fills. There is a new coda in this arrangement: instead of a Latin vamp, there is a swung vamp and fade out on the same chord, Dmaj7(♯11), twice as fast.
"Cecilia Coleman - Daryl Johns Duo"
was recorded at the legendary
Van Gelder Studio
in Englewood Cliffs.
Part of Don Sickler's efforts to increase the amount of repertory featuring the bass has been a series of recordings with jazzleadsheets.com's pianist-composers playing their music in a duo format, with bass. Cecilia Coleman, whose always-memorable piano lines grace many of the accompaniment tracks on our site, was an ideal candidate to team with young bassist Daryl Johns.
Bass Melodies (Daryl Johns, bassist)
Sometimes the line between support and lead can be laid out with pinpoint definition; other times it may be so blurry that it's unseen. Here, on Two Sides Of A Penny, we have another version; a "tag-team" of sorts. Both the piano and bass trade off on the lead parts throughout, not in a contrapuntal fashion like a fugue, but each in their own chapters. This kind of pairing requires advanced musicianship, devotion, and most importantly compassion, for it takes a person who is both strong in their love for themselves as well as strong in their love for others to be willing to take on such a role. There are many players who strictly prefer to play the principal lines, and haven't desire for the support role. Additionally some usually back-line performers get filled with angst and trepidation when asked to sing out an occasional melody. Learning this song will help defeat this issue of imbalance.

For example, letter A is comprised of a gorgeous yet haunting melody that serenades upwards from the bassist. However, by the end of bar seven the bass has already switched to a supportive half-note based figure and the piano is picking up the melody. At section B, the piano leads the way with a simple song-like figure that is mostly on the downbeats. Finally, we have both instruments playing the same line at letter C! All of these combinations work out well, as the performers dedicate themselves to continually being both supportive and leading.

In addition, there are two other elements about this song that need to be discussed. First, using the pairing of an "open" string with a "closed" note on the string above is a device used frequently by bassists, but here it's a little different. Instead of just playing an open tenth (as most commonly is done), Ms. Coleman composed a line that goes from tenth, to ninth, seventh and sixth, creating a beautiful effect as well as giving players other options for how to incorporate open string usage into their performances. Lastly, at the aforementioned letter B the melody is mainly half notes on beats one and three, while the bass is half notes starting on beats two and four. Keeping this in place requires accuracy and is a promising educational tool for rhythmic comprehension and for introducing how to phrase when starting from different parts of the measure.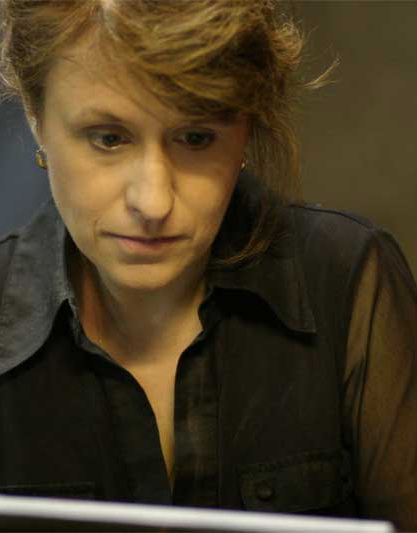 born on September 8, 1962
A native of Long Beach, CA, now a resident of both New York and California, Coleman began to play piano at age 5 and at age 15 began to study jazz piano. She studied jazz piano with well known vibraphonist and teacher Charlie Shoemake as well as classical studies with Dr. Allan Giles. She has developed into an exceptional composer whose distinctive, varied pieces reflect where jazz has been and where it is going. Read more...