Workout

– Hank Mobley

A real workout—and spotlight—for the drummer, but a delight for melody instruments, too! Philly Joe Jones drum transcription available.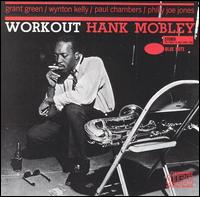 All selected items will be available for download after purchase.
Recording:

Hank Mobley - Workout

Recorded on:

March 26, 1961

Label:

Blue Note (BLP 4080)

Concert Key:

G minor

Vocal Range:

, to

Style:

Swing (uptempo)
Tenor Sax - Hank Mobley
Guitar - Grant Green
Piano - Wynton Kelly
Bass - Paul Chambers
Drums - Philly Joe Jones
Our audio excerpt starts with Hank's melody. On the complete recording, Hank had
Philly Joe
play a drum solo for 8 measures to set up the melody. When it does start, Hank's melody immediately sets up "two's" with Philly Joe. This is a great example of Hank specifically writing for the drummer on his session: if you know Philly Joe's playing, you'll see that the rhythmic figures in Hank's melody come right out of Philly Joe's vocabulary. After a swingin' bridge, the A section returns, followed by a powerful interlude that sets up the first soloist (Hank). This is a great drummer workout!
Drum Transcription: A seven-page drum transcription with everything Philly Joe plays, from the melody intro drum to his solo melody:
-- Eight measure drum intro (solo)
-- AABA Melody in (with drums trading 2's with the horn melody)
-- 8 bar interlude into solo set up
-- Drum solo (3 chorus)
-- AABA melody out (same as beginning)
-- Interlude ending (same as beginning)
Similar to other drum features that Mobley composed, Workout is all about Philly Joe Jones. It features Philly Joe playing around the call-and-response melody, as well as an extended three-chorus drum solo. This solo features some of Philly Joe's most distinguishable and swinging phrases perfectly placed to move the music forward.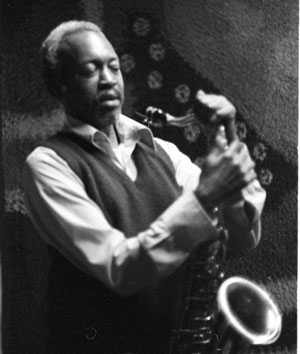 July 7, 1930 – May 30, 1986
Hank Mobley is one of the most acclaimed tenor saxophonists in modern jazz history. He is recognized by musicians and critics alike as one of the most important and eloquent jazz instrumentalists of all time. He recorded well over 100 of his own original compositions and left an indelible mark on the post-bop jazz scene. Read more...